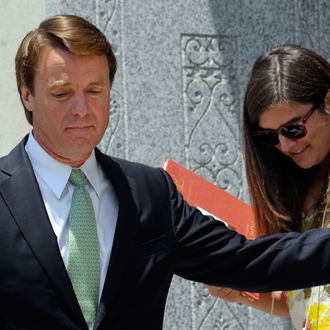 Former U.S. Sen. John Edwards holds the door for his daughter Cate Edwards as they leave for lunch on the ninth day of jury deliberations at federal court May 31, 2012 in Greensboro, North Carolina. Edwards, a former presidential candidate, plead not guilty to six counts of campaign finance violations and could face a maximum of 30 years in jail and $1.5 million in fines.
Photo: Sara D. Davis/Getty Images
The Justice Department announced today that it would not retry sparkly-eyed shuckster John Edwards on any of the five counts that resulted in a mistrial earlier this month. He is now free to go unfettered about his life, which we can only assume will consist of him traveling from small town to small town across the South, sweet-talking widows out of their retirement money and bedding their daughters.