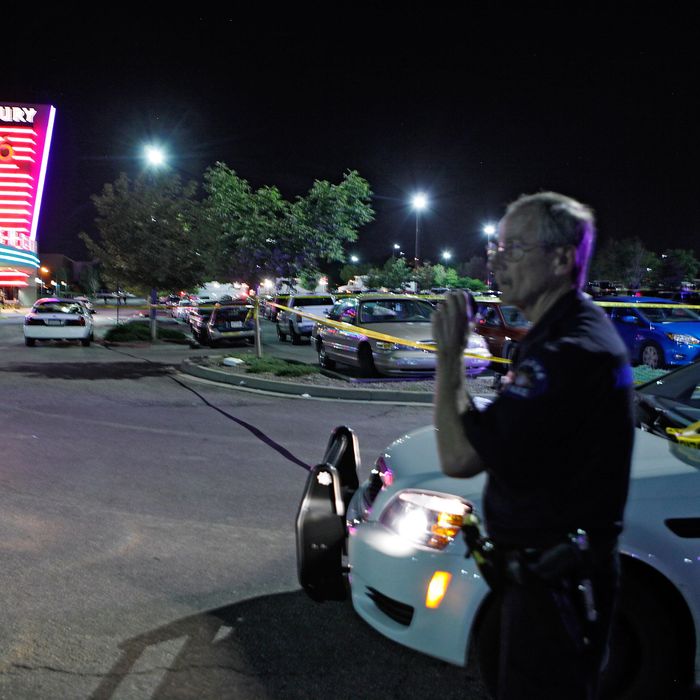 Early this morning in Aurora, Colorado, a gunman opened fire at a showing of The Dark Knight Rises, killing at least 12 people and injuring 59, according to local police chief Dan Oates. Ten people died at the scene and two at area hospitals. The 24-year-old suspect, identified as James Holmes, is in custody and the FBI has joined the investigation.
Oates said the suspect released two devices to distract the crowd with "some sort of irritant or smoke," and then started shooting. Earlier reports put the death toll at 14, with the wounded counted between 38 and 50. Seventy-one people were shot in total, police said Friday afternoon.

"We were maybe 20 or 30 minutes into the movie and all you hear, first you smell smoke, everybody thought it was fireworks or something like that, and then you just see people dropping and the gunshots are constant," said witness Christ Jones, speaking to Denver ABC affiliate KMGH. "I heard at least 20 to 30 rounds within that minute or two." Eyewitnesses described Holmes as wearing a bulletproof vest.
An officer said the suspect had a gas mask, rifle, handgun, and at least one additional weapon inside a car near where he was apprehended. Fearing explosives in the vehicle, the police cordoned off the theater's parking lot. Authorities are also attempting to search the suspect's apartment, whichis "booby-trapped" and contains "buckets of extra ammunition." Oates described it as an "active and difficult scene," including "apparent trip wires," that could take days to sort out. Five buildings in the surrounding area have been evacuated.

President Obama released a statement this morning saying that he is "shocked and saddened" by the "horrific and tragic" Colorado shooting. "Ann and I are deeply saddened by the news of the senseless violence," Mitt Romney said in a statement of his own, and added, "We expect that the person responsible for this terrible crime will be quickly brought to justice."

"This county is in very big trouble," said Mayor Bloomberg on his radio show this morning, stressing the need for gun control leadership nationally. "Maybe it's time the two people running for President of the United States stand up and tell us what they're going to do about it."
Update, 9:01 a.m.: A Reddit user has compiled a timeline of events gathered from news reports and the local police scanner.
Another Redditor claims to be one of the 50 wounded and has posted (graphic) photos of his bloody shirt and wound.
The Denver Post has video from the theater in the aftermath of the shooting, and footage has been uploaded to YouTube as well:
Among those killed was reportedly a young woman named Jessica Ghawi, an aspiring sportscaster writing under the name Jessica Redfield, whose most recent blog post indicates that she was in the vicinity of a shooting just last month:
I can't get this odd feeling out of my chest. This empty, almost sickening feeling won't go away. I noticed this feeling when I was in the Eaton Center in Toronto just seconds before someone opened fire in the food court. An odd feeling which led me to go outside and unknowingly out of harm's way. It's hard for me to wrap my mind around how a weird feeling saved me from being in the middle of a deadly shooting.
Update, 9:15 a.m.: ABC reached suspect James Holmes's mother, who woke up in San Diego to the news. "You have the right person," she said. "I need to call the police… I need to fly out to Colorado."
Update, 10:01 a.m.: The shooting is not even twelve hours old and the politicization has begun. ABC's Brian Ross drew a connection to the tea party, the first and only TV network to do so. The network soon recanted. Last year, speculation initially swirled that Jared Lee Loughner, the man accused of shooting Congresswoman Gabrielle Giffords and killing six others, was inspired by the Tea Party and the "the anti-government, pro-gun, xenophobic populism" of Arizona, as Slate's Jacob Weisberg claimed.
Update, 10:16 a.m.: Warner Brothers has canceled the Paris premiere of The Dark Knight Rises because of the Colorado shooting, Entertainment Weekly reports.
The NYPD is increasing its presence at New York theaters in all five boroughs "as a precaution against copycats," Commissioner Ray Kelly said, "and to raise the comfort levels among movie patrons in the wake of the horrendous shooting."
President Obama will speak to the nation from Florida, where he was going to be campaigning. Afterward, the president will return to the White House. Obama was told of the shooting at 5:26 a.m. EST by his counterterrorism adviser John Brennan, according to the White House.
Update, 10:30 a.m.: The first scheduled court hearing for the alleged gunman is tentatively set for Monday in Arapahoe County, which covers Aurora, reports Andrew Cohen of CBS News. A subsequent CNN report said Holmes could be in court as soon as Friday afternoon.

Update, 11:00 a.m.: "There are going to be other days for politics," said President Obama at his planned campaign event in Florida. "This, I think, is a day for prayer and reflection." The tragic events in Colorado, he said, are a reminder that "we are united as one American family." Obama's remarks can be seen below:

Both the Obama and Romney campaigns are pulling ads in Colorado for the time being.
Update, 11:10 a.m.: Reuters reports that the suspect's apartment has been rigged with "very sophisticated" explosives, and buildings in the surrounding area have been evacuated. The Aurora police chief said officers could be at the scene "for hours or days."
Holmes, according to reports, was a neuroscience Ph.D. student at the University of Colorado, but he withdrew last month. "The Holmes family is very upset about this," said a police spokesperson in California. "It's a tragic event. It's taken everyone by surprise."
Update, 11:52 a.m.: This unfortunate (since-deleted) tweet by the National Rifle Association's American Rifleman journal was sent this morning to more than 16,000 followers: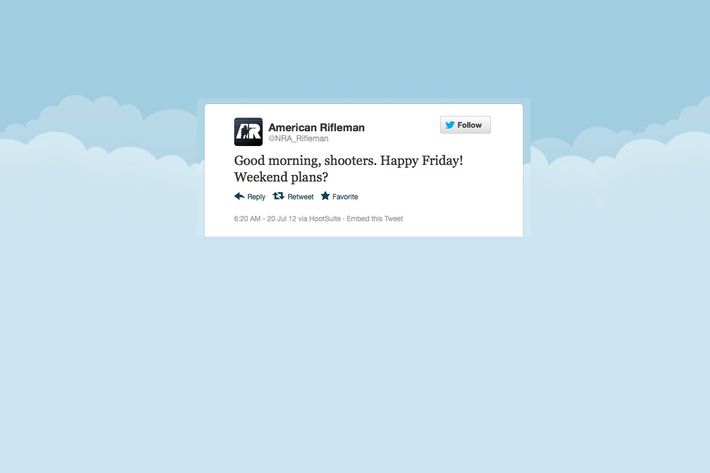 The Pentagon, meanwhile, reports that members of the U.S. military were either wounded or killed in the shooting. A later CNN report said two Navy personnel and two Air Force reservists were wounded.
Update, 12:05 p.m.: An ABC affiliate in Denver has posted the first photo of suspect James Holmes, as provided by the University of Colorado: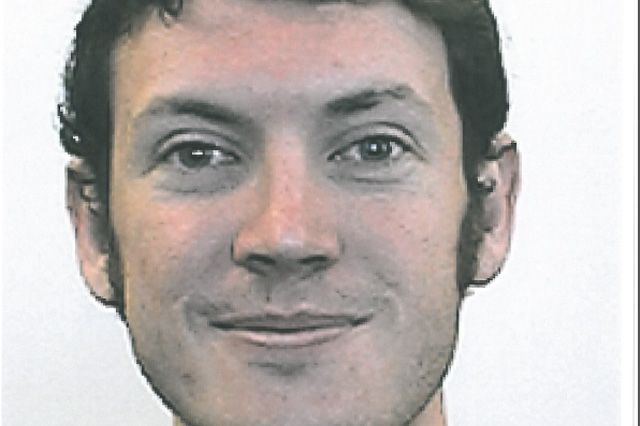 Update, 12:30 p.m.: Twitter user Rachel Fedeli was present for the shooting and tweeted her immediate reactions. "Our theater: bullets came through the walls and hit some people in our theater, and smoke bombs were thrown into our theater," she wrote. "There was blood on the floor and we were all standing there huddled at the front, helpless. Scariest moment of my life."
Update, 1:10 p.m.: Some comic-book fans are buzzing online about Frank Miller's 1986 graphic novel The Dark Knight Returns, which includes a scene showing a "Batman inspired" shooting in a movie theater.
Update, 1:20 p.m.: At an afternoon event in New Hampshire, Mitt Romney said, "This is a time for each of us to look into our hearts and remember how much we love one another, and how much we love, how much we care for our great country."
"Each one of us will hold our kids a little closer, linger a bit longer with a colleague or a neighbor, reach out to a family member or friend," he added. "We'll all spend a little less time thinking about the worries of our day and more time wondering how to help those in need of compassion most. The answer is that we can come together, and we'll show our fellow citizens the good heart of the America we know and love."
Update, 1:25 p.m.: NYPD Commissioner Ray Kelly said at a news conference this afternoon that Holmes claimed to be Batman villain the Joker. "It clearly looks like a deranged individual," Kelly said. "He had his hair painted red, he said he was the Joker, obviously the enemy of Batman." Kelly is the first to speak publicly of such details, but is reportedly close with Aurora police chief Dan Oates, who was with the NYPD for more than two decades.
Update, 2:10 p.m.: At a news conference this afternoon, Oates said Holmes was not dressed as the Joker. He described the suspect as using an AR-15 assault rifle, a 12-gauge shotgun, and a .40-caliber Glock handgun, while another handgun was found in the car near where Holmes was arrested.
"We are not looking for any other suspects," he said. "We are confident that he acted alone."
Update, 2:59 p.m.: Witnesses describe the horrifying scene to Reuters:
Update, 3:19 p.m.: There will be much more conversation about gun control in the days to come, but for now, NBC reports that all of the weapons used by Holmes were purchased legally starting in May. Think Progress notes that the semiautomatic AR-15 rifle used in the attack "would have been subject to a series of sharp restrictions" under the assault weapons ban that expired in 2004.
Here's Adam Gopnik, writing at the New Yorker: "Those who fight for the right of every madman and every criminal to have as many people-killing weapons as they want share moral responsibility for what happened last night — as they will when it happens again. And it will happen again."
Update, 3:59 p.m.: Some networks are opting to pull ads for The Dark Knight Rises from television in the aftermath of the shooting. Vulture has more fallout for the film here.
Update, 4:32 p.m.: The AP has more details on suspect James Holmes:
Those who knew the 24-year-old describe him as a shy, intelligent person raised in California by parents who were active in their well-to-do suburban neighborhood.

Holmes, who was studying neuroscience in a Ph.D. program in Colorado, grew up in San Diego, where his parents still live on a quiet, street of two-story homes with red tile roofs. He played soccer at Westview High School and ran cross country before going to college.