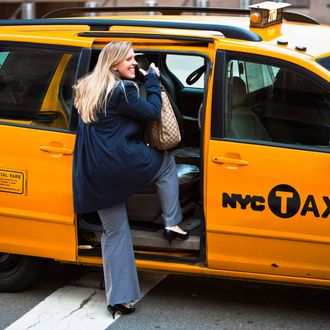 A smiling woman stepping into a cab some time prior to the imminent rate hike.
Photo: Jan Johannessen/Getty Images
The Taxi and Limousine Commission is expected to approve a proposal on Thursday that will raise the average cost of a ride 17 percent, the Times reports. If adopted, the adjusted fare schedule would begin bleeding riders as early as September, with the cost of every one-fifth-mile increment or 60 seconds in stopped or slow traffic rising from 40 cents to 50 cents. "A driver is actually earning less today than six years ago, when the current fare levels were set. I don't think anybody would think that a system is sustainable on that basis," said TLC commissioner David Yassky.
Drivers are pleased with the proposal but fleet owners believe they would be getting shafted. Under the proposal, fleet owners may charge drivers an additional $9 more per shift to lease a taxi, however they would assume the 5 percent credit-card processing fees.
And there's the very slim silver lining for riders: Drivers might stop cursing at people for using plastic or pretending that credit machines are broken. Enjoy.