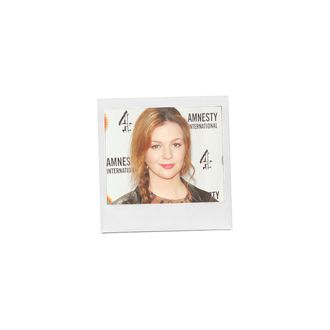 Photo: OWEN HOFFMANN/Patrick McMullan
Name: Amber Rose Tamblyn
Age: 29
Neighborhood: DUMBO
Occupation: Actress and author; she'll be performing at the New York City Poetry Festival this weekend on Governors Island.
Who's your favorite New Yorker, living or dead, real or fictional?
Rockefeller. And by that I mean Jay-Z. And by that I mean J.D. Salinger.

What's the best meal you've eaten in New York?
This would involve more than the meal itself, because New York is more than a meal in and of its … oh shut up! I would say a romantic date walking over the Brooklyn Bridge in the fall with my betrothed David to get soup dumplings and beer at Joe's Shanghai. (This hasn't happened yet but I'm hoping he'll read this interview and FIGURE IT OUT, DUMMY!!)
In one sentence, what do you actually do all day in your job?
How about one word? Hustle. (Fuck, that's a sentence!!!!)
What was your first job in New York?
The movie Stephanie Daley with Tilda Swinton. 2005.
What's the last thing you saw on Broadway?
Death of a Salesman.
Do you give money to panhandlers?
That is a rude thing to call poets!
What's your drink?
David Cross. Neat.
How often do you prepare your own meals?
A lot. Love to cook. A specialty would be salmon with homemade pesto and tomatoes and blanched asparagus with a shallot Parmesan sauce.  
What's your favorite medication?
Dayquil. I would change the name to Everydayquil.  
What's hanging above your sofa?
In which house? BOOM! Jk, I don't have any sofas. I sit on a pile of endangered Whooping Crane feathers held together by diamond paste. DOUBLE BOOM!
How much is too much to spend on a haircut?
I just cut off seven inches with the kitchen scissors, so I think in my case the question would be, how much is too much to fix my hair?
When's bedtime?
Right after mommy's fourth single malt night-night juice. I am, in fact, talking about my mother. I don't have a bedtime. SPRING BREAK 4 EVER!
Which do you prefer, the old Times Square or the new Times Square?
Neither?
What do you think of Donald Trump?
I think I need to spend more time reading modern classics before I spend any time thinking about Donald Trump.
What do you hate most about living in New York?
The parking signs. They are made deliberately to confuse you. I hate them.
Who is your mortal enemy?
Katherine Heigl? No, that's not her name.  Um … Jan? Yes! Her! She's the worst. What a goiter on that one.
When's the last time you drove a car?
Yesterday! I drove to Brighton Beach with my friend Keeli to drink beers and lie in the sun. It was perfect.
How has the Wall Street crash affected you?
Only by proxy.  
Times, Post, or Daily News?
The Onion.
Where do you go to be alone?
The back of the New York water ferry with my journal and headphones.
What makes someone a New Yorker?
The minute you tell someone else they are not a New Yorker and give them six reasons why, including their definition of where the LES begins and the East Village ends.