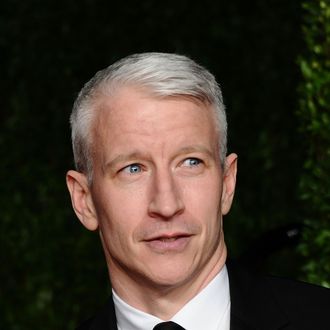 Photo: Michael Buckner/2011 WireImage
You might want to be sitting down for this one: America's silver-fox sweetheart Anderson Cooper is sexually attracted to men. He dropped the bomb today in an e-mail to his old friend Andrew Sullivan, who writes on his blog, The Dish, "we're evolved enough not to be gob-smacked when we find out someone's gay. But it does matter nonetheless, it seems to me, that this is on the record. We still have pastors calling for the death of gay people, bullying incidents and suicides among gay kids, and one major political party dedicated to ending the basic civil right to marry the person you love. So these 'non-events' are still also events of a kind; and they matter." This time, Cooper, a longtime inhabitant of the "glass closet," agrees — in public — that visibility is "more important than preserving my reporter's shield of privacy":
I've always believed that who a reporter votes for, what religion they are, who they love, should not be something they have to discuss publicly. As long as a journalist shows fairness and honesty in his or her work, their private life shouldn't matter. I've stuck to those principles for my entire professional career, even when I've been directly asked "the gay question," which happens occasionally. I did not address my sexual orientation in the memoir I wrote several years ago because it was a book focused on war, disasters, loss and survival. I didn't set out to write about other aspects of my life.

Recently, however, I've begun to consider whether the unintended outcomes of maintaining my privacy outweigh personal and professional principle. It's become clear to me that by remaining silent on certain aspects of my personal life for so long, I have given some the mistaken impression that I am trying to hide something - something that makes me uncomfortable, ashamed or even afraid. This is distressing because it is simply not true.

I've also been reminded recently that while as a society we are moving toward greater inclusion and equality for all people, the tide of history only advances when people make themselves fully visible. There continue to be far too many incidences of bullying of young people, as well as discrimination and violence against people of all ages, based on their sexual orientation, and I believe there is value in making clear where I stand.

The fact is, I'm gay, always have been, always will be, and I couldn't be any more happy, comfortable with myself, and proud.
The coming-out letter can be read in its entirety here. Near the end, the CNN anchor concludes, "I love, and I am loved."
Now take a moment to collect yourselves from this shocking turn of events.