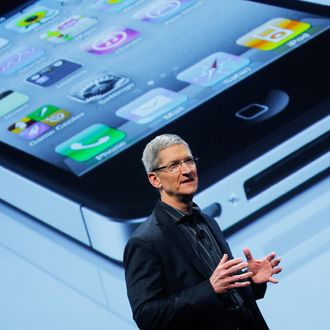 Help, we must get this man on welfare.
Photo: Chris Hondros/Getty Images
Apple CEO Tim Cook must be having trouble finding the switch on the "reality distortion field" thingy that Steve Jobs left behind, because Apple's stock is down 5 percent following a disappointing earnings announcement this afternoon, in which the company reported selling fewer Macs and iPhones than analysts had expected.
Granted, Apple made $8.8 billion in the quarter and also reported that its Croesean cash pile had grown to $117 billion, so "disappointing" is maybe not the best word for the complex set of emotions Cook and the rest of the Cupertino crowd must be experiencing.
But it has to hurt to lose the day to RIM, the imperiled maker of the BlackBerry, whose shares gained 1 percent on the day.