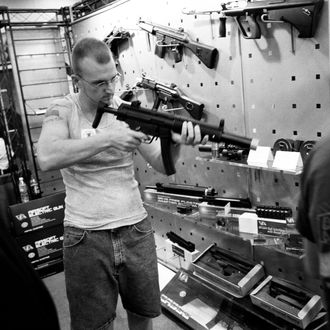 "Happiness is a warm Gun". Scenes at the National Rifle Association's (NRA) Annual Meeting April 16, 2005 in Houston, Texas. U.S. House Majority Leader Tom DeLay (R-TX) was the keynote speaker at the 134th NRA Members Banquet. 'Happiness is a warm gun' was the consensus at the annual NRA convention in Houston, where thousands of pistol packers swapped notes on concealed weapons, took aim at their enemies in France and at the U.N., and basked in the glow of political victory. With the number of privately owned firearms in the U.S well over 200 million, including upwards of 65-70 million handguns the debate of the right to bear arms only intensifies. The number of handguns rises by approximately 4.5 million annually.
Photo: Charles Ommanney/Getty
On the question of whether controlling gun ownership is more important than protecting the rights of gun owners, Americans feel almost exactly the same as they did before James Holmes shot 70 people in a movie theater, according to Pew. That's a broad, almost philosophical question though. Get into the specific proposals being made — should assault rifles and 100-bullet magazines like the ones Holmes used be legal? — and we bet you'll see some movement.