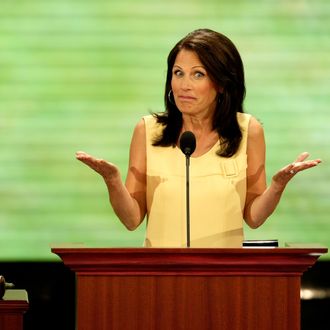 Photo: Alex Wong/2008 Getty Images
Michele Bachmann's claim that Hillary Clinton aide Huma Abedin and fellow Minnesota Representative Keith Ellison may have ties to the Muslim Brotherhood has members of her own party calling her a modern-day Joseph McCarthy, but it doesn't seem to be slowing her down. She told the St. Paul Pioneer Press on Monday, "We cannot elevate political correctness over national security," and other Republicans have also come to her defense, most notably Newt Gingrich, who wrote a lengthy Politico op-ed condemning the "recent assault on the National Security Five" (that's the brawny new brand name for Bachmann and the other representatives). Though Democrats are hoping that the controversy will help sway Minnesota voters in the fall, there's little evidence that her so-called "witch hunt" will have an impact in her home district.
On a national scale, Minnesota's 6th District isn't the most conservative, but it's the most staunchly Republican district within the state. It was one of only two congressional districts in Minnesota to vote for John McCain in 2008, and as the National Journal notes, recent redistricting only made it more solidly red. Bachmann's opponent, wealthy Minneapolis hotel owner Jim Graves, has tried to capitalize on the controversy by rolling out Facebook ads demanding that she "end her McCarty-style witch-hunt" and penning a Huffington Post editorial in which suggests she's abandoned the people of Minnesota's 6th district to "chase wild conspiracy theories in a self-interested attempt for fame and publicity." He's positioned himself, on the other hand, as a moderate Democrat who could be an acceptable alternative for Independents and Republicans fed up with Bachmann's antics.

But Graves still faces an uphill battle. Recently he released an internal poll of 505 likely 6th District voters that shows Bachmann leading with 48 percent of the vote to his 43 percent, with a 4.4 percent margin of errors, which would put him within striking distance of the three-term representative. However, Bachmann has a huge fund-raising advantage over Graves. She's raised more than $14.8 million in the current election cycle, making her one of the House's top fund-raisers. While Graves is said to be worth more than $100 million, he's only raised $404,000, and $250,000 of that was his own money.
Incredibly, being condemned by fellow Republicans could actually work to Bachmann's advantage. In 2008 Bachmann's Democratic opponent got a fund-raising bump after she said in an interview with Chris Matthews that members of Congress should be investigated for their "anti-American" leanings. However, as the Minnesota Post reports, that was only weeks before the election and many locals aren't following the race that closely in the middle of the summer. Bachmann already claims in her fund-raising e-mails that "being such a vocal proponent of constitutional conservatism and an opponent of President Obama and his disastrous policies has made me a top target for defeat this year." Being called out by leading congressional Republicans supports her persecution narrative and could energize supporters outside of Minnesota. The Star Tribune reported in July that 80 percent of Bachmann's campaign contributions came from donors who don't live in the state. Bachmann's campaign announced on Tuesday that from July 1 to July 25, when the scandal was unfolding, she still managed to raise more than $1 million. 
Many Washington insiders who have known Huma Abedin for years are horrified by Bachmann's accusations. However, her base doesn't have the same aversion to her calls to investigate an unknown, oddly named aide, and their contributions will fund ads that can turn Minnesotans' attention to other issues in the fall.