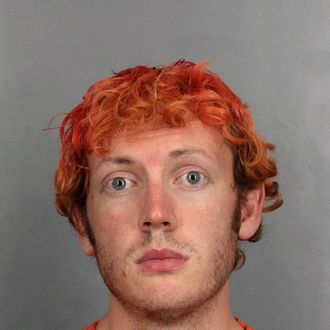 Holmes.
Photo: Arapahoe County Sheriff's Office
According to Fox News, the FBI has found a notebook that James Holmes mailed to a University of Colorado Anschutz professor/psychiatrist which is "full of details about how he was going to kill people," including "drawings and illustrations of the massacre." It wasn't discovered in the mail room until Monday, four days after the shooting. The question is when it arrived.
The source said the package had been in the mailroom since July 12, though another source who confirmed the discovery to FoxNews.com could not say if the package arrived prior to Friday's massacre. It was not clear why it had not been delivered to the psychiatrist. The notebook is now in possession of the FBI, sources told FoxNews.com.
That's just torture.