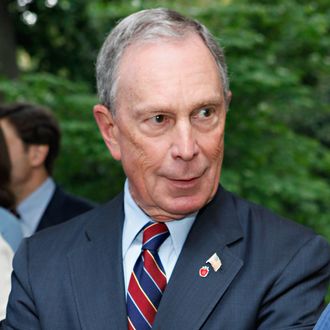 Despite his general readiness to prevent New Yorkers from consuming unhealthy things, Michael Bloomberg will not join Chicago mayor Rahm Emanuel, San Francisco's Edwin Lee, and Boston mayor Thomas Menino in their vows to do what they can (which isn't actually much) to prevent Chick-fil-A from setting up shop in their cities. The New York mayor weighed in on the recent controversy surrounding the fast food chain, the head of which recently voiced his opposition to gay marriage, during his weekly radio show.
Bloomberg said that it is inappropriate for a government entity "to look at somebody's political views and decide whether or not they can live in the city, or operate a business in the city, or work for somebody in the city."
He added that while he personally supported marriage equality "trampling on the freedom to marry whoever you want is exactly the same as trampling on your freedom to open a store." Currently, the city is home to a single Chick-fil-A — and you have to wade through throngs of NYU students to get to it, anyway.