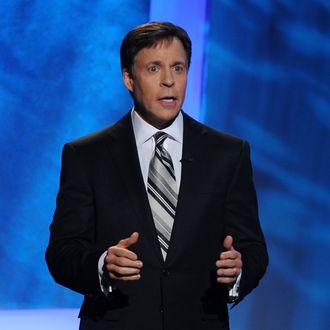 You're not going to get away with this, IOC. (Mark Davis/Getty Images)
Photo: Mark Davis/2011 Getty Images
Earlier this month, NBC sportscaster Bob Costas vowed to browbeat the Olympic committee over what he called a "baffling" decision not to include a moment of silence at the opening ceremony for the 11 Israeli athletes murdered at the Munich Olympics exactly 40 years ago. "I intend to note that the IOC denied the request," he told the Hollywood Reporter. "Many people find that denial more than puzzling but insensitive." Well, yesterday, during the live broadcast, Costas kept true to his word. As the Israeli delegation of athletes entered the London arena, following the super-fun opening ceremony, he held his own on-air memorial service.
These games mark the 40th anniversary of the 1972 tragedy in Munich, when 11 Israeli coaches and athletes were murdered by Palestinian terrorists. There have been calls from a number of quarters for the IOC to acknowledge that, with a moment of silence at some point in tonight's ceremony. The IOC denied that request, noting it had honored the victims on other occasions. And, in fact, this week [IOC president] Jacques Rogge led a moment of silence before about 100 people in the athlete's village. Still, for many, tonight, with the world watching, is the true time and place to remember those who were lost, and how and why they died.
Costas then went quiet for about 12 seconds — "an eternity in TV time," THR reminds us — before going back to NBC's regular coverage of the country-by-country parade of questionable outfit choices.