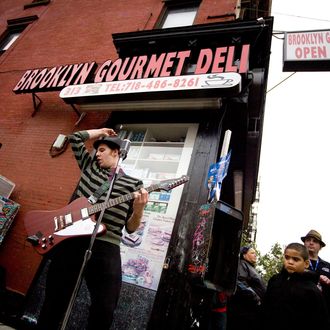 This is what Brooklynites who don't live in Williamsburg are missing.
Photo: Afton Almaraz/2009 Getty Images
The news that Brooklyn, "somehow, against all odds, became an internationally recognized icon of cool," has been met with rejoicing in certain circles (as evidenced by the New York Times's fondness for the phrase "très Brooklyn," which the paper is clearly dying to use here). However, there are plenty of Brooklynites who don't live in areas where sustainable, grass-fed beef is readily available, and many are jealous and angry at their trendy neighbors.
Following confirmation last month that Brooklyn is one of the nation's fastest-gentrifying neighborhoods, Susan Weber-Stoger, a Queens College sociology research associate, reports that in the community district that encompasses Park Slope and Carroll Gardens, the proportions of households earning more than $100,000 increased to 43 percent in 2010 from 28 percent in 1990. Also, in Williamsburg and Greenpoint the proportion of residents who hold graduate degrees has quadrupled to 12 percent. Yet, in Brownsville and Ocean Hill the number of households earning more than $100,000 has remained flat at 9 percent, while those earning under $25,000 rose slightly during the same period to 46 percent. In East New York and Starrett City only 4 percent of residents hold advanced degrees.
Many who live in places like Gerritsen Beach, Marine Park, Sheepshead Bay, Brownsville and East New York are simply ignoring the rebranding of their borough, but others resent the focus on certain prosperous enclaves when their neighborhood is still plagued by problems like unemployment and gang violence. There are even complaints that in these areas city officials don't respond as quickly when there are problems with municipal services. "What happens when you're not in the paper a lot and on TV, you're kind of forgotten," says Greg Borruso, president of the Marine Park Civic Association, "so when we ask for something we don't always get the same response." Perhaps it's time to start lobbying Lena Dunham for a Girls shout-out. We hear she has friends in high places.