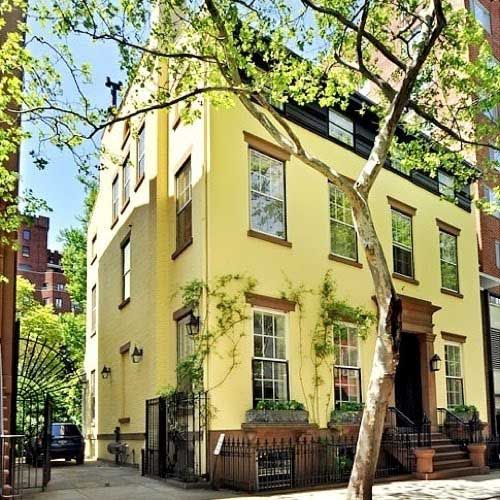 Truman Capote's former crib.
After a stable but so-so first quarter — a boon in East Bushwick sales notwithstanding — reports released today by some of the city's biggest firms reveal a decently performing real estate market in Brooklyn for the second quarter. According to Prudential Douglas Elliman's quarterly survey, prepared by appraisal firm Miller Samuel, 1,988 properties found buyers from April to June, up 2.4 percent from the same period last year. Properties are selling at the "fastest pace" in two years, and the average price is up two percent to $585,777. Inventory declined a substantial 17.6 percent.
Sales of large apartments — three bedrooms and bigger — have lofted the market, says Frank Percesepe, regional director of the Corcoran Group's Brooklyn office. Add townhouses to that list, too. "The last six months, the townhouse market has been on fire," he says. Then again, this is Brooklyn, after all — land of envy-inducing brownstone blocks. Still, the numbers are striking: The average price of a one-family shot up 28 percent to $1.873 million. The biggest sale so far this year for houses? Truman Capote's former abode, a 5,702-square-foot mansion on Willow Place that traded hands for $12.5 million, breaking records for the borough.
As for where the steals are hiding, head to Bay Ridge/Sunset park, where, according to Brown Harris Stevens, the average price, $300,365, is down 3 percent in the first half of this year. Park Slope/Prospect Heights is stable, but try negotiating for a condominium, maybe; the average price-per-square-foot for a condo there is down 2 percent to $699.
Queens, like Manhattan and Brooklyn, also experienced a big dip in inventory, with the number of listings down by 33.3 percent to 8,754 units. Fewer apartments sold this quarter than last year (2,306 versus 2,361), but what's there is selling at a higher price: Both average and median prices are up, by 2.2 percent and 3.8 percent respectively. The average price of a Queens property is now $399,154.