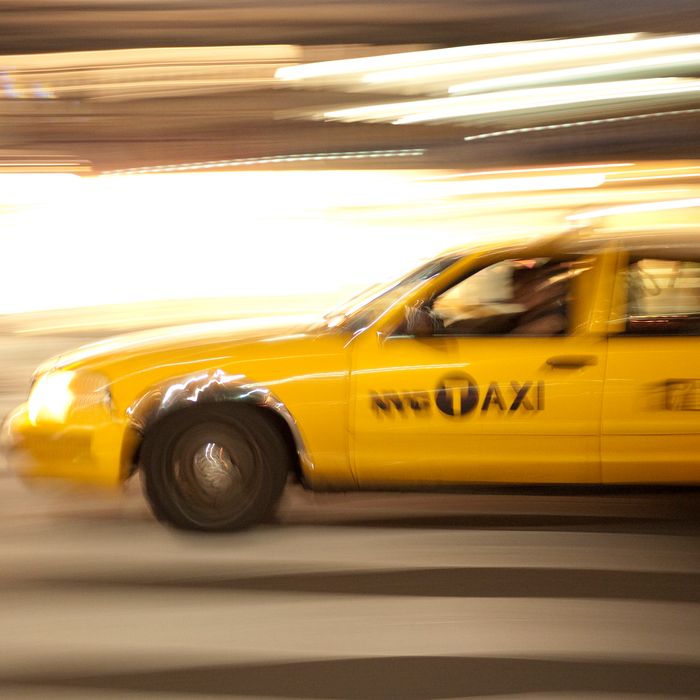 Yellow Taxi cab, Manhattan, New York City, USA.
Photo: Jon Arnold/AWL Images/Corbis
This morning, the city's Taxi and Limousine Commission approved the first taxi fare hike in six years. The typical trip will now cost $14, up from $12, about a 17 percent increase, and cab rides from Manhattan to JFK will jump from around $45 to $52. Just yesterday, Bhairavi Desai, executive director of the New York Taxi Workers Alliance, told Daily Intel that she was hopeful but unwilling to jump the gun. "We're fighting against some pretty deep pockets and big money." Today as the vote result was announced — by a 6-2 margin, with one abstention — Desai was handed a bouquet of flowers by a driver as her eyes welled up.
The "deep pockets" and "big money" Desai referred to are the fleet garages, which employ the majority of the city's 48,500 taxi drivers. The Metropolitan Taxicab Board of Trade, which represents 33 of these garages and some 4,000 yellow cabs, had in fact petitioned the TLC for a fare hike of 20 percent but only if attached to a 20 percent increase in the lease cap, the maximum garages are allowed to charge drivers to lease a cab. Without the lease cap increase, MTBOT's Michael Woloz calls the current plan "a lopsided giveback to the drivers." In an e-mail to Daily Intel, he said it is clear proof that the TLC and Mayor Michael Bloomberg's administration are "retaliating against the taxi leasing companies for taking them to court on the livery street hail plan and other initiatives that we have successfully blocked."
But drivers know all too well how creative garages can be when it comes to squeezing more money out of their drivers. John McDonagh, a lifelong New Yorker who's been driving a Crown Victoria cab since 1984, says that "unscrupulous garage owners will try and add little things here and there." (Though the 130-car Queens outfit where he leases his cab is, by comparison "pretty honest," he told Daily Intel.)
Lakshman "Lucky" Abeysekara, who recently allowed New York's Jennifer Gonnerman to tag along for a twelve-hour shift, says he's heard stories of garages charging extra late fees, or charging owner-drivers extra to add a second driver to the leased medallion. "It's just the same like in the airplane. They cut off the food, then they charge for extra baggage, now they're charging for window seat," he said.
But today's vote is still great news for Lucky and his fellow drivers. Especially the part where they will no longer pay a 5 percent processing fee for credit card transactions — a perennial driver complaint — but instead a $10 daily fee, up from $9 suggested by the TLC's original proposal.
McDonagh is most excited about the six cents added to every fare, destined for a driver health-care fund. "That is a tremendous boost, and I would call it, like Obamacare, Cabbycare. After all, a lot of the drivers have kidney problems, kidney stones, from hitting all the potholes and sitting for twelve hours. They get blood clots in their legs."
At the end of the day, drivers should still see most of that 17 percent show up in their daily take-home pay. According to TLC numbers, this will bring their incomes back to 2006 levels, the last time fares increased, and enough perhaps to assuage drivers and their lobby for a while. Now it's the garage owners' turn to demand their piece of the slightly larger pie.