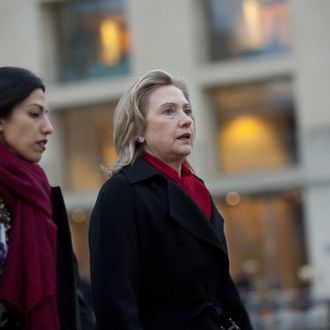 "You're not a spy, right?" "No." "Okay, just checking."
Photo: SAUL LOEB
As the controversy over Michele Bachmann's call for an investigation into whether the Muslim Brotherhood has infiltrated our government unfolded, Hillary Clinton remained noticeably silent on the issue, probably to send the message that the secretary of State is too busy to address such nonsense. However, when asked to comment today while speaking at the Carnegie Endowment for International Peace, she leaped to Huma Abedin's defense, confirming that she has no reason to suspect her longtime aide is a spy for the Islamic organization.
Clinton referenced John McCain's speech on the Senate floor denouncing Bachmann, though she didn't mention any politicians by name. Politico reports that instead she linked the controversy to efforts in developing nations to respect minority religions:
"Leadership is incredibly important. Leaders have to be active in stepping in and sending messages about protecting the diversity within their countries. And frankly, I don't see enough of that, and I want to see more of it.  I want to see more of it, and we did see some of that in our own country.  We saw Republicans stepping up and standing up against the kind of assaults that really have no place in our politics."
Who could have guessed that Clinton would have so little tolerance for a vast right-wing conspiracy theory?