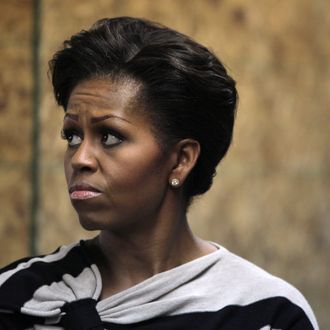 Who would want to hurt this lady?
Photo: Scott Olson/2011 Getty Images
Anonymous officials tell the Washington Post that a D.C. police officer who worked as a motorcycle escort for White House officials is being investigated after he allegedly told fellow officers that he would shoot the First Lady, then showed a picture of the gun he would use on his phone. The Secret Service has been notified and he was immediately moved to administrative duty  — which is appropriate, we guess? There are no signs that Michelle Obama was ever in danger, but considering all the fuss over Ted Nugent's blustering it seems like somebody should have been tackled by Secret Service agents at the very least.