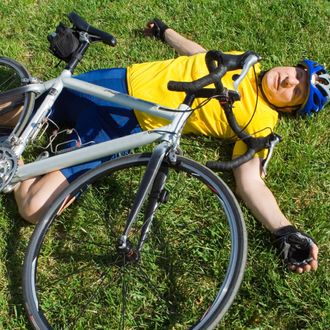 A dramatic reenactment.
Photo: James Pruitt/Copyright James Pruitt
The uneasy peace between cyclists and runners  in Central Park was shattered on Harlem Hill last Tuesday when a cluster of thumbtacks sprinkled across the road attached themselves to more than a dozen bicycle tires. "I ripped the skin off my elbow and it's pretty sore," one rider, who was thrown from his bike, told the Post. A fellow cyclist immediately pinned the blame (so to speak!) on the obvious suspects:
"I really don't want to point fingers, but some think it could have been a disgruntled runner," he said. "There is kind of a rivalry in the park between cyclists and runners."
"Kind of  a rivalry" is one word for it. "Centuries-old blood feud primed to explode into an orgy of death and ruin" is another.