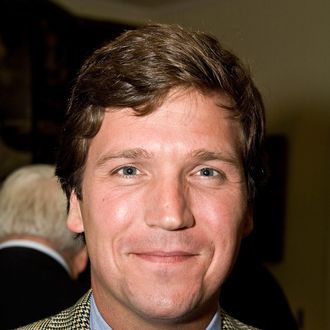 Photo: Paul Morigi/WireImage/Getty
Tucker Carlson's bastion of patriotic respectability, the Daily Caller, has hit upon a flawless trifecta of birds to kill with one 9mm, via the eleventh edition of its weekly gun giveaway. (Yes, weekly.) See, yesterday, the website was hacked with hardcore porn ads that undermined the whole family-friendly vibe of the enterprise, so the new contest first serves to get to the bottom of that crime: " … if you're the first person to find our hacker and turn his name over to us, we'll give you a gun." Additionally, "We'll give a prize" — a gun engraved with the Bill of Rights — "to the person with the funniest and most inventive ideas for how TheDC should repay this jerk."
Along with facilitating justice, the giveaway serves to assert the site's support for the Second Amendment, even in the face of national tragedy. Instead of the typical one firearm prize, they're handing out two!
Most important of all, the out-of-touch macho posturing wins Carlson & Co. attention from the scandalized, stupefied, and sympathetic alike. Welcome to the Internet.
That said, an unintended consequence could very well be riling up more hackers. Bombs away.