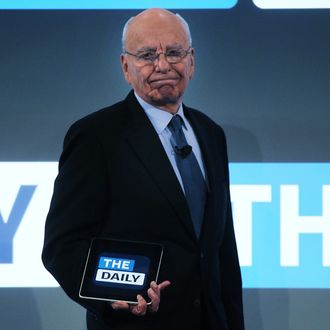 Photo: Spencer Platt/2011 Getty Images
Times are about to get tighter at News Corp.'s many money-losing journalistic enterprises as the company moves toward stripping the warm profits of the entertainment business from the publishing side of things. The very expensive iPad newspaper The Daily, for one, has been put "on watch" ahead of the restructuring, the New York Observer reported this week. That news was echoed today by the Times, which said the futuristic tabloid is "on probation and at a crossroads." But The Daily will not go quietly: They're adding a weekend magazine to the app, and taking on the rumors publicly.
WKND launches tomorrow with "food porn, celebrity playlists, photos and travel tips to exotic locales, plus everyone's favorite DIY projects," according to an announcement today. More forceful is a letter from editor-in-chief Jesse Angelo to his staff, published online for all to see (unlike early Daily memos, which were leaked). First he congratulates his staff on the iPad magazine within an iPad newspaper, and then he moves on to the "haters":
As for the latest misinformed, untrue rumors of our imminent demise, I would urge you to ignore them. Since before we launched, our dear friends at competing media outlets have done their best to wish us ill and gleefully 'report' on what they think is going on here. The truth is we have over 100,000 paying subs who are renewing their subscriptions at a 98% rate and fantastic advertisers who love our brand and keep coming back for more because they get results. Pay attention to them, not the haters.

This is the truth about the modern media business — all outlets, including the ones writing about us, are under pressure to prove themselves as businesses. We are no exception, and to be sure, we will need to continue to evolve, adapt and change in order to compete and be successful.  As something new and different, we are an easy target for erroneous wishful thinking. But make no mistake, we will be nimble and we will compete.
It's a nice vote of confidence from one of Rupert Murdoch's top editors, who also puts in work at the New York Post, but losses of $30 million a year remain a huge hole to climb out of, nimble or not.