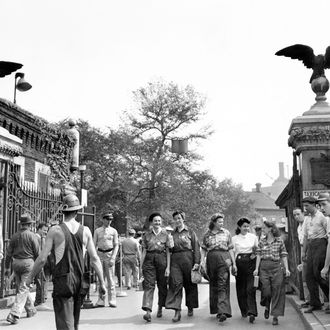 Women workers head home from the Navy Yard at quitting time, September 1942.
Photo: The New York Times/Redux
The waterfront at the Brooklyn Navy Yard, on a ragged inlet opposite the bulge of the Lower East Side, is both an exhilarating place and a melancholy one. Out beyond a collapsing pier, the Williamsburg Bridge executes its grand jeté across the East River. In an immense World War II–era dry dock, granite-walled and roomy enough for the Empire State Building to stretch out, an oil barge is getting a fresh coat of red paint. A giant tanker waits outside the imperial-scale gates for its turn to be spruced up. Nearby, the high-end printing company Duggal Visual Solutions has nearly finished refurbishing a huge derelict shed, stripping it down to the bones and recladding the skeleton in clear glass and dark stone. The structure will serve as a laboratory for environmentally virtuous inventions. Eventually, the crumpled asphalt out front will get a landscape makeover too; for now it's best navigated in a high-clearance truck.
The roughly 300-acre campus is easy enough to steer clear of, if you have no business there—the closest subway stop is a fifteen-minute walk—and most New Yorkers probably have only a hazy idea of how to find it. But it's also astonishingly central, and its proximity to the Williamsburg, Manhattan, and Brooklyn Bridges, as well as the BQE, has become too providential to ignore. All across the grounds, you can see the drift of entropy being slowly, fitfully reversed. Decay coexists with vigor. After Defense secretary Robert McNamara decommissioned the Brooklyn Navy Yard in 1966 (along with the Brooklyn Army Terminal, Fort Jay on Governors Island, and nearly 100 other military facilities), it entered a 40-year period of ruinous neglect. The result is a scarred and fragile loveliness. Weather and vegetation have reclaimed the doomed houses along Admiral's Row, all but two of which will eventually make way for a supermarket complex. Other vacant relics will survive, including the 1838 hilltop hospital constructed of Tuckahoe marble, the local stone that gave so many of New York's nineteenth-century public buildings their pale, antique grandeur. Across the way is the graceful Civil War–era Surgeon's Residence, a mansarded mansion in desperate need of attention yet sturdy enough to be rescued.
But the true beauty of this historic industrial park is that it's still an industrial park. The paradox of preservation is that often, the more you safeguard a building's appearance, the more its character changes beyond recognition. This is especially true of machine-age behemoths or buildings designed for a precise technological moment. We recycle silos as apartment buildings, turn power plants into parks, and install museums in empty factories. We protect the body and sacrifice the soul.
At the Brooklyn Navy Yard, though, industrial buildings are being rejuvenated so that people can do what they always did there: make things. Activity has reached a bustling crescendo. The number of workers has nearly doubled in the last decade, to about 6,000 people staffing more than 275 businesses. Disused buildings are being restored or rebuilt. Products made in Brooklyn are adorning homes, protecting soldiers, illuminating streets, and sweetening coffee. Pee into a vial at the doctor's office, and your urine may get sent here for testing. Spend a weekend morning at MoMA, meet friends for brunch, take a nap on your custom couch, turn on the air conditioner, order a gift online, wrap up the evening peering at the sets on Saturday Night Live, and it's possible that every comfortable and leisurely minute of your day will involve a company located at the Brooklyn Navy Yard.
Still, that buzz is drowned out by a choir of thronging ghosts. During World War II, 70,000 people came to work here every day, grinding out warships and materiel. The glowering lattice tower atop a muscular but now vacant brick building was a naval radio installation. A photograph in the Yard's archives shows a clutch of grinning young Rosie the Riveters marching through the gates while their new male co-workers gawked.
Today, the vibe is cleaner, greener, and more muted. Barbed-wire fences have come down and groups of visitors file through on tours. Employees lock their bikes to stands designed and manufactured by one tenant, Ferra Designs, and find their way after dark thanks to solar-and-wind-powered streetlights made by another, LumiSolair, a Duggal sister company. Building 92, the brick-and-cast-iron Marine Commandant's House, has been expanded to contain a sleek multimedia exhibit about the Yard. The military-industrial complex endures in the vestigial form of Crye Precision, a boutique purveyor of high-tech body armor for elite forces. Crye's vests are hand-sewn, mostly by a couple dozen skilled Chinese tailors who commute from Sunset Park—a workforce that once could have crammed into a single Lower East Side tenement.
The Navy Yard itself is something of a premium product: Businesses that could rent cheaper real estate on Long Island or in New Jersey (or in China) pay the Brooklyn premium because owners want to work near their homes and clients and other like-minded entrepreneurs. As a result, the Yard is evolving into a center of environment-oriented innovation. Duggal hopes to operate its vast new sustainability laboratory with a carbon footprint of zero. Another giant U-shaped complex of three buildings in various states of spectacular dilapidation will soon be getting a $46 million overhaul to turn it into a Green Manufacturing Center, shared among various businesses, including Crye. What was once a vast, rattling war machine is now quietly battling a culture of waste.
The Navy Yard is slouching back to life under the management of a nonprofit development corporation and its president Andrew Kimball, who runs the operation with a mixture of vision and focused realism. Part capitalist, part preservationist, part urban-policy wonk, Kimball helps businesses make money while at the same time acting as caretaker for a site that is at least partly a museum of itself. Much of his work involves the expensive and unsexy labor of shoring up bulkheads, repairing sewers, smoothing roadways, and stabilizing brittle walls. But Kimball also believes that in the next decade he can double both the number of jobs and the active square footage, and he dreams of creating a 50-acre media-and-entertainment campus that would include the old hospital grounds.
All that could happen. Steiner Studios, the enormous soundstage and back-lot complex that anchors the Yard, has been expanding, and Kimball figures that if he can scrounge up $38 million in public funds, that should leverage another $350 million from Steiner. Meanwhile, the studio is helping Brooklyn College launch a new graduate film school—the only one in the country located on a working movie lot.
We know vanished civilizations by the biggest, brawniest, and most durable buildings they leave behind: Roman stadiums, Egyptian temples, medieval cathedrals, Renaissance châteaux. The last 200 years have bequeathed to us an ungainly legacy of industry, and what we make of that inheritance helps define who we are. At the peak of the machine age, factories were emblems of human might, and artists like Charles Sheeler hymned their majesty and ruthless purpose. Later, the decline of manufacturing in the West gave us a new Gothic landscape, and we have come to savor the poetics of abandonment: silent smokestacks, vaulted basilicas with missing windows, massive brick fortresses, looming silos, weed-mossed trolley tracks, great steel trusses furred with rust. At the same time, the word industrial has been trivialized into an aesthetic label, shorthand for restaurants done in polished concrete and brushed steel.
The Navy Yard contains the whole catalogue of lyrical decay. You could see it as a vast and dour still life, murmuring its warnings of ashes to ashes; as an evocative ruin, eloquent of less-than-ancient glories. You might also see it as an aspect of New York's future. The most visible changes to the waterfront have been the glittery stretches, devoted to vigorous exercise and utter languor. But the city has been shoring up the working waterfront too, convinced that even a postindustrial megalopolis can still nurture shipping, manufacturing, and other olden trades. (The Brooklyn Army Terminal and Industry City, in Sunset Park, are being slowly resuscitated, too.) The Yard's future depends on entrepreneurs who understand the value of the past—who treat history as a resource rather than an expensive inconvenience. Sure, it's often easier to tear down a ruin and start again than to fuss over antique stones and steel—but then you might as well just pave a fresh patch of desert in Nevada and build your business there.