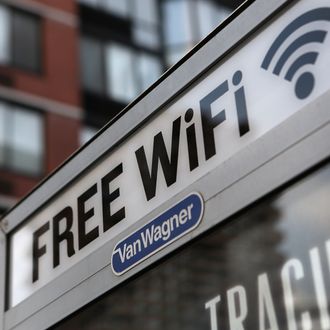 The sign to look out for.
Photo: John Moore/2012 Getty Images
The city announced on Wednesday that it's converting obsolete phone booths into Wi-Fi hot spots, starting with ten spots in Manhattan, Queens, and Brooklyn that have already been hooked up for free Internet access. Users can log on without a password and there's no usage limit. Rahul N. Merchant, Citywide Chief Information and Innovation Officer, says the goal is to add to the existing phones, not replace them. "We want to see what else our citizens want in a pay phone," he said. Cell-phone-equipped New Yorkers don't really need the pay phone anymore, but it's nice that the booths will get to spend their final years as a base for a Wi-Fi router rather than just a receptacle for bodily fluids.