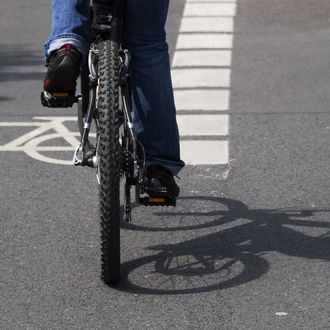 Dangerously close to remedial class.
Photo: AFP/2011 AFP
"This whole thing is nuts," Steve Galiczynski told the Times of the 90-minute remedial biking class, his attendance a penalty levied by the Midtown Community Court. "It's like I'm in a Russian novel — a crazy Russian novel." Galiczynski's part in the so-called crazy novel resulted from what he termed a "literally three second" ride on a sidewalk. He and seven others suffered the indignity of the remedial class covering bicycle law and more at a sports store in the Upper West Side.

The court has sentenced 30 or so bicyclists to take class so far mostly for riding on a sidewalk or failing to use a bike lane, and some were also required to perform community service for a day. The court implemented the new class in an effort to bolster awareness of bike safety in advance of the city's launch of the bike-share program. Bikers will be wise to stay in their lanes or find themselves somewhere between reality and a scene from The Master and Margarita.