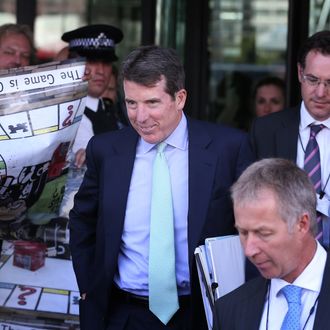 Bob Diamond leaves the London hearing.
Photo: Peter Macdiarmid/2012 Getty Images
While his countrymen were downing hot dogs and attempting not to burn their hands off with illegal fireworks, American-born former Barclays CEO Bob Diamond appeared on Wednesday before a British parliamentary hearing to discuss the growing scandal over the manipulation of interest rate submissions. Diamond said "There's no excuse for the traders' actions," adding that the fraud made him "physically sick." Though, he didn't even know about it until recently. And Barclays actually tried to alert regulators about the problem, but they did nothing. Plus, a Bank of England official might have sort-of told them to submit inaccurate figures. And did you know that there were lots of banks doing the exact same thing?!
Diamond, who resigned earlier this week, is the first person involved in the scandal to appear before Parliament, and he took the opportunity to spread the blame around. He claimed Barclays was actually an attempted whistle-blower, but British and American regulators failed to do anything when it raised questions about how Libor rates were set.

Diamond also elaborated on his charges against the high-ranking Bank of England official Paul Tucker. Diamond says that Tucker called him in 2008 and said government officials were concerned that Barclays had been reporting above-average Libor readings. Diamond passed on Tucker's comment that "it did not always need to be the case that [Barclays] appeared as high as we have recently." A top employee, who has since resigned, misinterpreted this as a directive from Tucker, and instructed underlings to start submitting lower rates. It's as if a teacher told Diamond "we're concerned about your grades taking a nose dive," and the employee interpreted that as the go-ahead to start cheating.

Parliamentary officials responded by tearing into Diamond, and suggesting that if Barclays knew so many banks were involved, it should have done more to stop the rate fixing. "Either you were complicit, grossly negligent or incompetent," said Labour MP John Mann. Diamond paused, then asked, "Is there a question?"