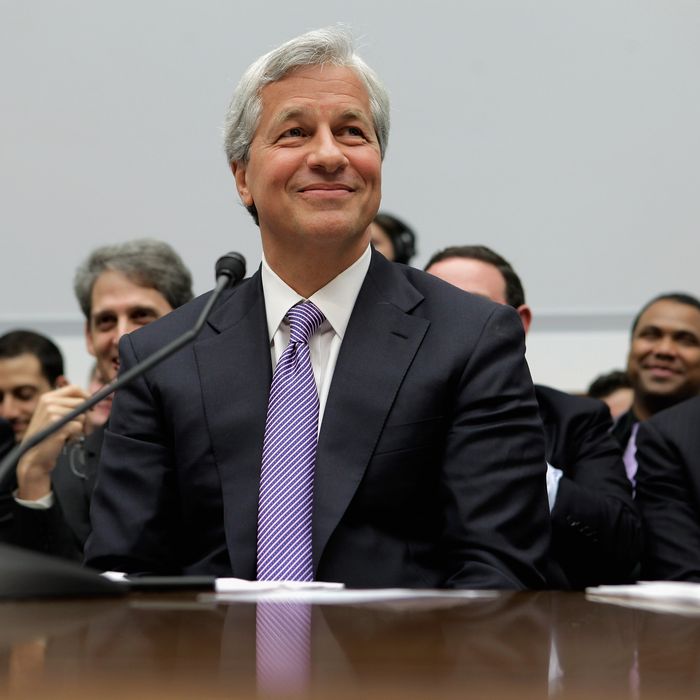 Trust me, I got this.
Photo: Chip Somodevilla/Getty Images
Since JPMorgan first disclosed that Bruno Iksil, a trader in its London office, had lost a whole bunch of money on a bad credit hedge, lots of intelligent people, from James Rickards to Paul Krugman to Simon Johnson, have made the case that Jamie Dimon will (or should) step down in ignominy.
Speculation about Dimon's resignation has intensified today, as JPMorgan revealed the true size of the London Whale's loss ($4.4 billion on the quarter, $6 billion total) and was forced to restate its first-quarter financials while admitting that a few of its traders may have tried to hide the extent of the losses.
So let's get this out of the way: Jamie Dimon will not resign as JPMorgan Chase's CEO over the London Whale fiasco. If I owned a farm, I'd bet the farm on it.
Most of the people I've talked to on Wall Street agree: Dimon is too proud, too beloved at JPMorgan, too feared by regulators, and too respected by lawmakers to let a couple of chowderheads in London ruin his legacy. After hearing Dimon and his top brass speak at an analyst meeting this morning that was broadcast by conference call, I'm even more confident in Dimon's resoluteness to make it through this one alive.
Even Mike Mayo, the hard-nosed analyst who challenged Dimon at this morning's meeting (asking him if JPMorgan's failure to contain the Whale meant he had "lost a step"), admits that a Dimon resignation is probably not in the cards.
"His long-term track record is still superior to that of the CEOs of other large banks," Mayo told me in an interview after the meeting. Mayo said that while the losses had given him questions about the quality of JPMorgan's risk controls, "I haven't talked to one investor who has said Jamie Dimon should step down."
It's true that this morning was ugly. The bank was forced to admit that in the course of investigating the Whale imbroglio, it found that CIO traders "may have been seeking to avoid showing the full amount of the losses in the portfolio during the first quarter" by deliberately fudging the value of their trades. That's very, very bad, and it elevates the narrative of the CIO's losses from one of undermanaged incompetence to one of deliberate prevarication.
And it's true that the timing of a major earnings restatement couldn't be much worse for JPMorgan. As Matt Levine notes, the Libor scandal is reaching a fever pitch, and the general public's distrust of Wall Street is at near-record high. (Not an unimpressive feat!)
We generally like top executives to assume responsibility for the things that happen under their watch, no matter how far down the ladder. Even if the person who screwed up was two, three, or nine levels away from the top of the organizational chart, we assume that part of a CEO's responsibility is to foster and hold in place a culture of ethical conduct. If that culture fails, we think heads should roll.
Other big-bank CEOs have resigned over similar muck-ups. Oswald Grübel took the fall for a rogue trader at UBS who lost "only" $2 billion. Jerome Kerviel's 2008 rogue trades at Societe Generale — which cost the bank more than $6 billion — led to the resignation of the bank's chairman.
But all kinds of signs point to the fact that Dimon doesn't intend to fall on his sword for this one, no matter how big the final loss tally is.
Just look at how JPMorgan's PR team has handled the fiasco. Instead of clamming up and playing defense, saying the bare minimum it could get away with and making only the statements it was legally required to make, Dimon went on a full-blown apology tour, talking almost to the point of overexposure, appearing on Meet the Press and before Congress, and making a refrain of clear, direct mea culpas.
"We are not proud of this moment, but we are proud of our company," Dimon said this morning.
The mere fact that today's meeting — a two-hour marathon of self-flagellation that was accompanied by a huge pile of slides [PDF] explaining what went wrong inside the CIO and how the bank intends to avoid more Whale-type losses — happened as it did reflects the fact the Dimon intends to ride this one out.
That could change, of course, if it turns out that Dimon was aware of deliberately mismarked trades in the CIO before he testified before Congress. But I suspect he didn't, not least because CFO Doug Braunstein told analysts this morning that the bank decided to restate its first-quarter financials only yesterday. (Plus, Warren Buffett thinks he's being honest, so it has to be true.)
The market liked what it heard this morning — JPMorgan's stock is up more than 6 percent — and Dimon is clearly seeing the light at the end of the tunnel. But I suspect some of Dimon's recovering swagger can be traced to his increasing certainty that long after the world has forgotten the name Bruno Iksil, he'll remain in the driver's seat at JPMorgan.
Which, it seems, is right where Wall Street wants him.