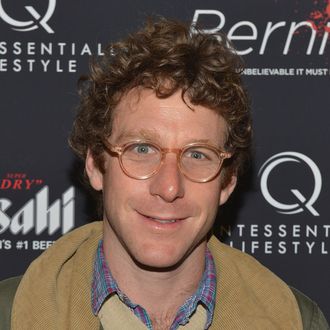 Yellin.
Photo: Slaven Vlasic/Getty Images
Last night in Brooklyn, the artist Dustin Yellin couldn't keep his shirt on. That's probably atypical for a political fund-raiser, but it wasn't weird — it was Yellin's place, after all, and he was surrounded by friends. At his Red Hook studio, The Intercourse, a self-described "cultural think-tank-slash-museum school experiment," a bearded and bespectacled crowd of about 200 paid $50 each to enjoy the borough's finest ceviche and moonshine, with the proceeds going to the political action committee Downtown 4 Democracy, "an alliance of professionals in the arts and creative media who share a deep commitment to progressive ideals." Yellin welcomed guests with a bright red T-shirt slung over his shoulder, putting it on only when the sunshine softened, but he ended the night barebacked again, in case there was any question about the kind of event he was hosting.
D4D was founded in 2003 and raised $1.5 million to get the vote out for John Kerry. We all know how that turned out. The organization disbanded soon thereafter, having become a full-time side project for its art-world organizers. "It was extremely successful in terms of getting the creative community to participate in the political process," said Bronwyn Keenan, a former Guggenheim events director and original D4D board member, in Yellin's garden last night. "But creative people tend to take it personally if we lose. It was a crushing defeat."
"It wasn't until Sarah Palin that everyone woke up again," she explained. That missile dodged and the world still intact, D4D has risen from apathy's ashes this year and partnered with CREDO, a liberal super PAC, with the aim of unseating "The Tea Party 10," the most extreme and vulnerable members of the U.S. House of Representatives, from Pennsylvania to California. Without their own Sheldon Adelson, the group hopes to make its dent in smaller markets. "I'm personally in a better position to give money now," said Keenan. "Last time, I was in a position to do the grunt work."
Much of the organizing now falls to a next generation board member, 25-year-old Audrey Gelman, who's just not busy enough as press secretary for Manhattan Borough President Scott Stringer and an actress on Girls. Gelman launched a reborn version of D4D earlier this year with The Pocket Guide to Politics, a civics textbook-gone-Tumblr featuring government lessons told through art from Terry Richardson, Dan Colen, Aurel Schmidt, and Andrew Kuo. The book's launch party, at the Standard Hotel, featured appearances from Gelman's wide sphere, including Stringer, Lena Dunham, and Mos Def.
Last night's dinner was less swanky, relatively, featuring food from Vinegar Hill House and Frankies Spuntino 457. Young people dotted the grass with cigarettes, craft beers, and white plates; it looked like your average summer barbecue in Brooklyn, but prettier. It was the first in a series of D4D events pairing political speakers like The Nation's Ari Melber and MSNBC's Alex Wagner with foodie gods like Mario Batali and junk-food legend Christina Tosi. (Bon Appetit's Christine Muhlke helped curate.) Tickets for the forthcoming dinners jump to at least $200.
"I think it was pretty cool that a demographic some might refer to as 'hipsters' trekked out to possibly the hardest neighborhood to get to in Brooklyn, not to attend an opening or a fashion show, but to support progressive politics," Gelman said of last night's kickoff. "And paid to do it." Attendees could also register to vote. "An element of D4D's mission is to counteract the stereotype that people who are young and creative are too busy caring about themselves to care about politics," said Gelman. "These are the people that influence what America wears, watches, reads, and listens to — they have an opportunity to harness that influence."
As the night wound down, having paid their dues and filled up on the perks, the crowd sat cross-legged for an acoustic performance from songwriter Adam Green. Gelman and (for the moment, a fully clothed) Yellin welcomed him to the stage, and despite it being a Tuesday night, they knew their audience. "I want to thank all of you guys," Gelman said, "for not being in the Hamptons."