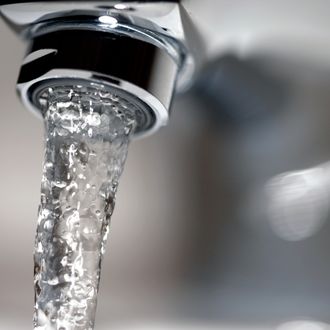 Despite the well-reputed revitalizing liquid pouring plentifully for cheap from New York City sinks, a California transplant has dubbed local tap water "terrible," and partnered with "a local art dealer and restaurant owner" to sell their own filtered version:
>
Not just any tap water, insist the owners of Molecule. They say the water streams through a $25,000 filtering machine that uses ultraviolet rays, ozone treatments and reverse osmosis in a seven-stage processing treatment to create what they call pure H20.
The going rate for the premium formula, The Wall Street Journal reports, is $2.50 for a 16-ounce glass bottle, although 50 ounces is only $1 if you bring the jug. (But who knows what chemicals are lurking in your plebeian containers.)
And, for the adventurous among us, "Patrons can order a shot of vitamins A, B, C, D and E or a mixture of roots, herbs, fruits and mushrooms blended in blasts called 'energy,' 'immunity' and 'skin, hair and nails' to add to their water."
That sounds ridiculous, you might say (if you're poor). But the store's owners are ready to face doubters:
To counteract critics, Molecule is planning a weekly naming ceremony to imbue its water with personality and Sunday blessings involving religious figures from all faiths, including Tibetan monks and pagan worshipers.