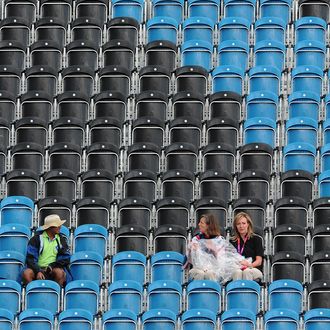 Spectators at today's dressage event. (CARL COURT/AFP/GettyImages)
It's now the second day of the 2012 London Summer Olympic Games: China's already taken an early gold medal lead, Michael Phelps has been unseated as reigning swim king, but all anyone seems able to talk about are the empty seats everywhere. Yesterday, Britain's culture secretary Jeremy Hunt called the swathes of empty seats "very disappointing." London's Olympics organizers, still smarting from the whole GS4 security debacle, quickly launched an investigation while devising a seat-stuffing strategy that uses soldiers, security personnel, and local students.
This is somewhat normal for the Games, since most national teams are too busy in the opening days to show up and support their peers, while the vast majority of corporate seats and suites go unused until the more glamorous finals come around. But one Olympics spokesman told the Guardian that, "It's completely wrong to say this is a sponsors issue." Lord Sebastian Coe, the London Olympics head who'd earlier promised to "name and shame" any no-show sponsors, apparently doesn't mind using standby personnel to fill empty seats, though he's not quite ready to back a plan that would open up vacant seats to British fans.