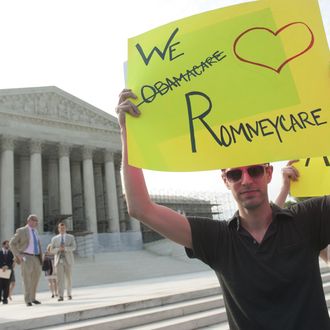 Photo: SAUL LOEB/AFP/GettyImages
It's Sunday, and that means only one thing: Sunday talk shows, where this country's beloved politicians gather to share their various thoughts and feelings about the big news of the week that was. On today's agenda, obviously: The Supreme Court's decision to uphold most of President Obama's Affordable Care Act. While everyone has finally managed to agree that the ruling is not, in fact, the worst thing to happen to the United States since 9/11, there are still some tiring rhetorical arguments to be had, such as, "Is the enforcement of the individual mandate a penalty or a tax?"
Justice John Roberts (now in an impregnable island fortress) says it's the latter, Obama says it's the former. As Intel Dan pointed out a few days ago, what we call it does not actually matter at all (except when you consider how much people hate the word "tax.") As evidenced by her appearance on NBC's Meet the Press today, House Minority Leader Nancy Pelosi's subconscious is sick of these semantics.
"It's a penalty that comes under the Tax Code," Pelosi said on NBC's "Meet The Press" as host David Gregory pressed her to say whether she agreed with the Supreme Court, which deemed the law constitutional because the fee used to enforce the individual mandate amounts to a tax, or with President Barack Obama, who has maintained the fee is not a tax.

"It's a ta—; it's a penalty for free riders," Pelosi said, nearly uttering the dreaded T-word before cutting herself off.
White House Chief of Staff Jack Lew was on CNN's State of the Union to more clearly make that point, again: 
"First of all, the law is clear, it's called a penalty. Second of all, what the Supreme Court ruled is that the law is constitutional. Actually, they didn't call it a tax. They said it was using the power under the constitution that permits it. It was not labeled," Lew said.
Meanwhile, the Republicans continued to be stuck with the slightly more difficult task of labeling the mandate a tax while, at the same time, avoiding its striking similarity to the law Mitt Romney instituted as governor of Massachusetts, which also penalized people who did not buy insurance. House Speaker John Boehner went with a state versus federal government argument:
"This is an issue that was in Massachusetts — that's one state," he said. "That's why we have 50 different states. They're laboratories of democracy. Governor Romney understands that Obamacare will bankrupt our country and ruin the best health care delivery system in the world. … This is far more than any state has ever comprehended or tried to do."
Louisiana Governor Bobby Jindal tried the same thing, but more hilariously:
"Mardi Gras is great for Louisiana. It may not work as well in Vermont or other states," Jindal said in a quip that seemed to fall flat with Gregory.

"You're really comparing Mardi Gras to the universal health insurance," Gregory said somewhat incredulously.

"What I'm saying is every state is different," Jindal replied.
On Fox News Sunday, Senate Minority Leader Mitch McConnell went with a more outright dodge. After declaring that the Supreme Court had, "Unearthed the massive deception that was practiced by the president and the Democrats, constantly denying that it was a tax," he dismissed Romneycare's similarities by saying the candidate "will have to speak for himself about what was done in Massachusetts." (He also charmingly responded to a question about how his party would provide coverage to the United State's 30 million uninsured residents by saying "that is not the issue" when it comes to fixing the health care system, which is apparently "already the finest health care system in the world.")
And finally, we heard from Ted Kennedy, via his wife Vicki. "I think if Teddy were here, he would tell us now it's time to roll up our sleeves, get to work, fully implement the law and move on with the business of our country." A futile plea — clearly, no one's moving anywhere until November — but at least one person did what he could to honor Teddy's wishes: Obama spent his weekly radio address discussing the ongoing, massive wildfires in Colorado, and mentioned health care exactly zero times.