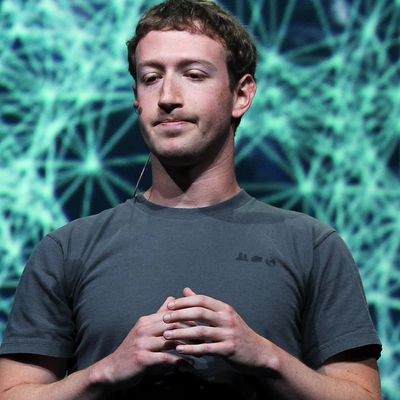 He just can't keep you people happy.
Photo: Justin Sullivan/Getty Images
Facebook reported its earnings for the first time today, giving investors their first peek at the company's finances since its botched public offering in May.
In the buildup to the earnings release, the social network did everything right — steered analysts to a relatively modest consensus view (12 cents a share and $1.15 billion in revenue), reported numbers that were equal to or slightly better than those estimates (12 cents a share, $1.18 billion), and enjoyed a few minutes of market euphoria.
But Wall Street changed its mind. After an initial boost, Facebook's share price fell to around $24 in after-market trading, its all-time low.
What happened?
Well, it seems that once investors read to the end of Facebook's earnings release, they saw that the things they liked (better-than-expected revenue, a growth to 955 million monthly active users) were trumped by the things that scared the hell out of them. Namely, a 213 percent year-over-year growth in capital expenditures (in English, that's "Facebook spent a lot of money this quarter on stuff, like new offices in New York") and a worrying decrease in operating margin (Translated: "Facebook squeezed less profit out of every dollar in sales").
More worrisome, I suspect, is the data behind this chart (via Michael Comeau), which shows that, although Facebook is gaining users, it isn't gaining them as quickly as it used to.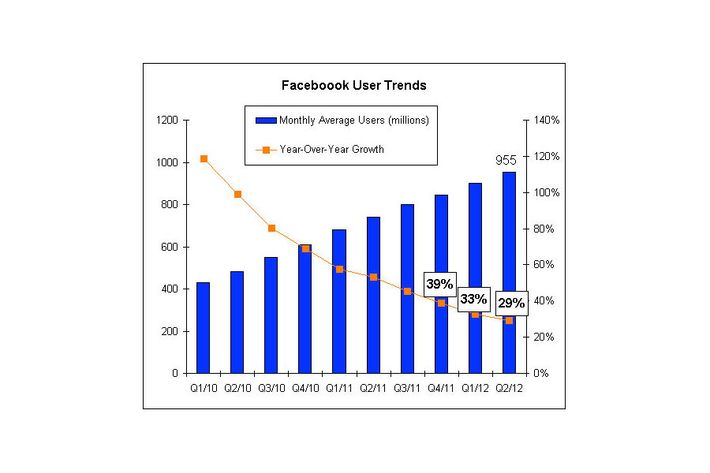 Today's results, and the stock panic that followed, have again confirmed Zuckerberg's hunch that making Facebook a public company — with all the short-termist hysteria that accompanies public stocks — would be a tremendous pain in the ass.
But they also point to a life of ever-higher expectations for Facebook as it matures in the public market. In future quarters, it won't be enough for Facebook to expand its developer base, add tens of millions of users a quarter, and make Scrooge McDuck–type money from mobile ads. To keep investors happy and the stock price in sunshine, it will have to do all of those things plus hit other, less-exciting financial targets.
It's enough to make even Zuckerberg, whose pep was somewhat muted when he joined a conference call with analysts this afternoon, sound like the saddest billionaire in town.