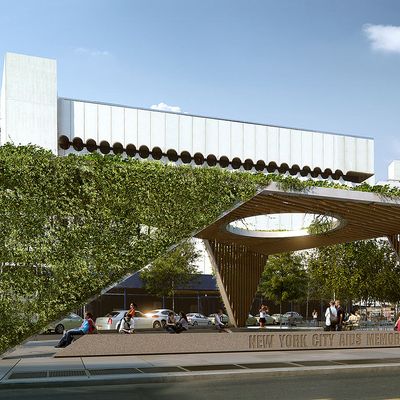 Photo: Courtesy of Aids Memorial Park
Last winter Studio a + i, a Brooklyn-born architecture firm led by Lily Lim and Mateo Paiva, won a competition to convert a small triangle of parkland next to St. Vincent's Hospital into an AIDS memorial. Lim and Paiva wanted to fence a grove in with mirrors, multiplying visitors into an infinitely reflected crowd that would evoke the multitudes who died of the disease. Negotiations with the developer Rudin Management and the community board shrank the site down to a 1,600-square-foot arrowhead at the intersection of West 12th Street and Greenwich Avenue, so the architects went back to their laptops. They have returned with a completely new idea: instead of a roofless enclosure, an unwalled canopy, instead of hard walls, a soft, green arbor.
In the new version, currently making its way through the approvals process, a triangular trellis, planted with vines, shades the point-shaped park. The canopy and its supports create a continuous folded plane, like Step. No. 1 on an instruction sheet for transforming a sheet of paper into an origami beast. At the center, sunlight (or rain, or snow) pours through a round cutout in the overhead and hits a circular reflecting pool. The granite pavers are little pieces in a vast narrative of suffering.
The new design is far softer, more empathic and understated than the competition entry. It didn't feel right, somehow, to memorialize illness with three hard, unyielding surfaces that would have maximized glare. It is also much more modest, a tiny arbor parting tributaries of traffic. Maybe that's appropriate. AIDS is a global epidemic, its victims members of varied but overlapping communities, and its treatment triggered political battles of appalling intensity. Yet at the same time, each victim and each grouping of friends and family members has had to wage a separate battle with the disease, and this quietly abstract memorial—a life-filled roof, mottled light, a watery eye—captures something crucial about the intersection of public space and private reflection.