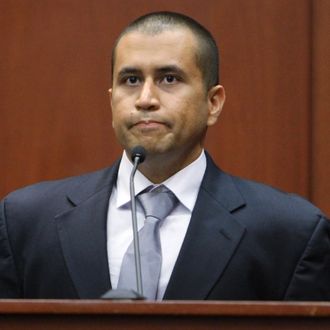 George Zimmerman.
Photo: Pool/2012 Getty Images
George Zimmerman, who's accused of second-degree murder for shooting Trayvon Martin, had his bail revoked after the court discovered that he'd lied about how much money he'd raised from donors following his arrest. Today his bail was set at $1 million, up from the original $150,000, and within hours he started soliciting donations again through his website.
Judge Kenneth Lester said in his decision that the increased bail isn't a punishment, but is meant to "allay this court's concern that the defendant intended to flee the jurisdiction." Zimmerman will have to pay a bail bond company 10 percent of his bail, or $100,000 dollars. Upon his release, he'll be banned from leaving the county or going to the airport, and must wear an electronic monitor.
Zimmerman has already raised at least $200,000 in donations, but his lawyer said the bail bond company would have to work with his client since, "George Zimmerman and his family do not have anywhere near $1 million for collateral." The statement posted on Zimmerman's website this afternoon read:
For those that think Mr. Zimmerman has been treated unfairly by the media, for those who feel Mr. Zimmerman has been falsely accused as a racist, for those who feel this case is an affront to their constitutional rights – now is the time to show your support.
Presumably he'll make all the necessary disclosures this time.