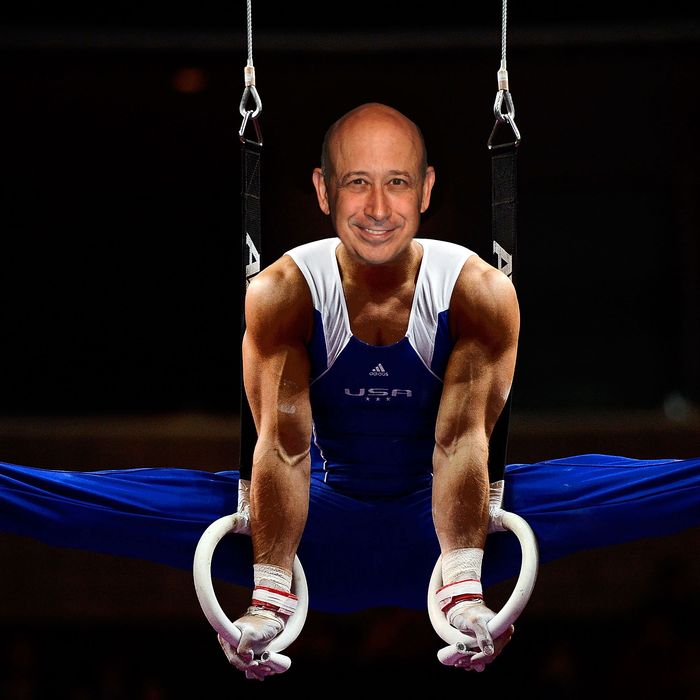 Lloyd goes for the gold.
Photo: Ronald Martinez/Getty and Patrick McMullan
From time to time, Goldman Sachs likes to remind people that it is not just a stuffy, austere investment bank where Serious Finance People do Serious Finance Things.
So it's delightful, though not altogether surprising, that the bank has put out a primer handicapping the London Olympics.
The Olympics and Economics 2012 [PDF], which came out this week from Goldman's global research department, is a "light-hearted look" at the world's most popular athletic event through the lens of economics geeks who ponder questions like "What is the relationship between GDP per capita and whether or not the Spanish pole vaulter sprains his ankle in practice?"
Goldman doesn't answer our real questions about the Olympics — questions like, will the uniforms be made in China? And how is Michael Phelps going to get his bong through customs at Heathrow?
Instead, the 44-page document is filled with banal Q&As with athletes ("At GS, we stress teamwork in everything we do. From your own experience of running in relays, what are the main things that can contribute to a team's success?") and charts like this: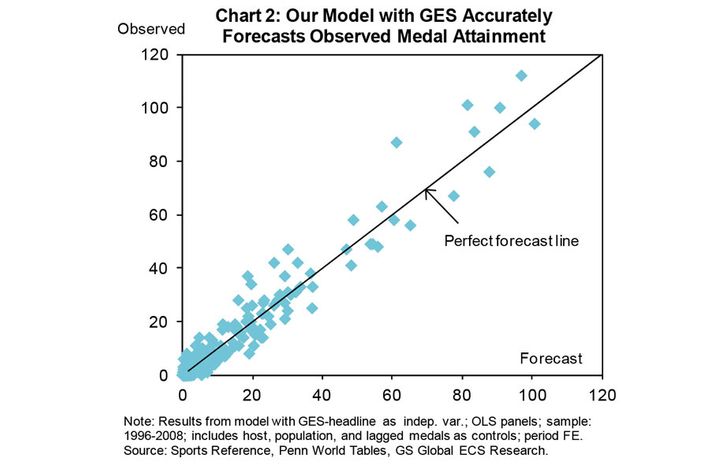 That said, we wouldn't bet against Goldman's medal count. The bank crunched the relevant economic statistics for the top 50 countries, built a model correlating them with past Olympics results, and came up with a prediction that the U.S. will win 37 gold medals and 108 overall medals, while China will come in second with 33 golds and 98 medals total. (Iran, Colombia, and Algeria come in last in the overall medal count with a pathetic three apiece.)
The funniest thing about Goldman's Olympics breakdown (besides the fact that an Irish publication defines coming in next-to-last on the list as a "profitable return") is that a team of busy, highly paid Goldman analysts convinced their bosses to let them spend a few weeks looking at ESPN.com all day.
Let's all agree to take away Algeria's medals, and give them to those guys.