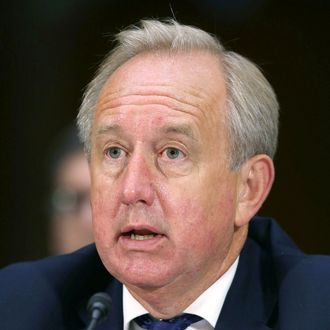 David Bagley, goner.
Photo: Mark Wilson/Getty Images
HSBC isn't having the best summer.
It wasn't enough that the British bank got caught up in the Libor-rigging investigation, or that, six months after Zuccotti Park faded into our collective national memory, a group of Occupiers is still doing mike checks inside the bank's Hong Kong headquarters.
No, HSBC's troubles had to escalate this week, with a Senate committee dropping a 335-page report [PDF] that accused the bank of helping Mexican drug cartels launder money and doing business with terrorist-affiliated banks in the Middle East, among a litany of other very bad things.
A year-long investigation by a Senate subcommittee produced the report, which turned up evidence that HSBC had willingly turned a blind eye to shady activities carried out under its purview, including a transfer of billions of dollars in suspected drug money through the bank's U.S. division.
The report also implicated the Treasury Department's Office of the Comptroller of the Currency, which is supposed to police things like money laundering, for failing to step in earlier. Senator Tom Coburn said that the OCC had acted as a "lapdog, not a watchdog" by failing to catch HSBC in the act.
The scandal at HSBC, which doesn't yet pass the Aunt Deborah test, has already claimed one executive – David Bagley, the firm's head of compliance, who announced in the middle of a Senate hearing yesterday that he was stepping down.
At that hearing, a group of HSBC executives expressed contrition for the bank's lapses in judgment, but offered a good explanation for why they hadn't stopped drug lords in their tracks. They were just too busy, you see:
Among those testifying was Paul Thurston, an HSBC executive who was HSBC's Mexico chief executive during a period in 2007 when law-enforcement concerns about drug cartel laundering became known to the bank. Mr. Thurston, now an executive with HSBC in Hong Kong, acknowledged uncovering some of the suspicious accounts, noting that some of what he found "took my breath away."

But he said some of the problems arose because HSBC Mexico was a fast-growing unit that handled its anti-money-laundering screening at each of its 1,300 branches. He said he moved to try to centralize such operations but that the bank struggled to respond to suspicious transaction alerts, which sometimes came in at the rate of 1,000 a week.
Some HSBC critics are calling for criminal prosecutions, and the bank could face a fine of up to $1 billion.
But on the bright side, HSBC may be able to auction off the life rights of some of its former clients for use as the villains in future Bourne movies.