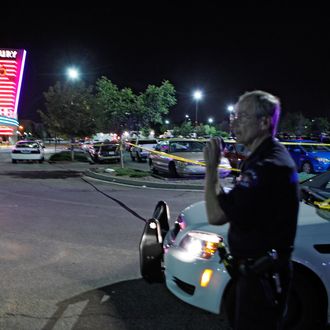 During the chaotic aftermath of the Colorado shooting on Friday, a particularly chilling moment came when ABC News spoke to the mother of suspect James Holmes by phone. The network reported that the woman, reached in California, "told ABC News her son was likely the alleged culprit, saying, 'You have the right person.'" The article also said that Holmes's mother was "apparently speaking on gut instinct" when she "immediately expressed concern her son may be involved in the shooting death of at least 12 people overnight."
Today, she disputed that account, claiming her quotes were misused. If true, that would be ABC's second big screwup within the same story. [Update: ABC stands by its reporting; see below.]
"This statement is to clarify a statement made by ABC media," said Holmes today through her lawyer, Lisa Damiani. "I was awakened by a call from a reporter by ABC on July 20 about 5:45 in the morning. I did not know anything about a shooting in Aurora at that time. He asked if I was Arlene Holmes and if my son was James Holmes who lives in Aurora, Colorado. I answered, 'Yes, you have the right person.' I was referring to myself.
I asked him to tell me why he was calling and he told me about a shooting in Aurora. He asked for a comment. I told him I could not comment because I did not know if the person he was talking about was my son, and I would need to find out."
The story to which she's referring already includes a major correction:
Editor's Note: An earlier ABC News broadcast report suggested that a Jim Holmes of a Colorado Tea Party organization might be the suspect, but that report was incorrect. ABC News and Brian Ross apologize for the mistake, and for disseminating that information before it was properly vetted.
For now, details about the call to Holmes's mother remain. We've reached out to ABC for comment and will update when we hear back.
Update: In a subsequent report today, ABC declined to make a correction, but included some additional details about the call between Arlene Holmes and ABC News producer Matthew Mosk:
Mosk said today that he awoke Arlene Holmes and informed her that a man, he believed was her son had been arrested in Aurora and asked to confirm their relationship.

"You have to tell me what happened… You have to tell me what happened," the woman on the phone said, according to Mosk. Mosk said he told her that ABC News had learned the 24-year-old had been identified by police as the lone suspect in the mass killing in Aurora, Colo and that the details of the events were still taking shape.

"You have the right person," was her response, he said. "I need to call the police. I need to fly to Colorado."

Just prior to the press conference, Damiani contacted ABC News to determine whether there existed a recording of the pre-dawn conversation between Mosk and her client, according to Mosk.

One hour after learning there was no audio recording, Damiani held the conference and read Arlene Holmes' statement.