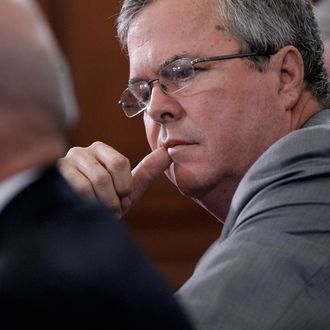 Bush, thinking about what a Rubio vice presidency could do for this nation.
Photo: Chip Somodevilla/2012 Getty Images
Jeb Bush has major regrets about the 2012 presidential campaign, but he's trying to salvage the race for himself by getting Senator Marco Rubio, a fellow Floridian, onto the the ticket. Politico reports that the former governor "is making a big public and private push" for Rubio to be Mitt Romney's vice-presidential pick, telling reporters on Wednesday that he's lobbying the candidate himself. Romney has been pretty secretive about his VP selection process, but we're fairly certain that even being the former First Son and First Brother doesn't get you a vote.