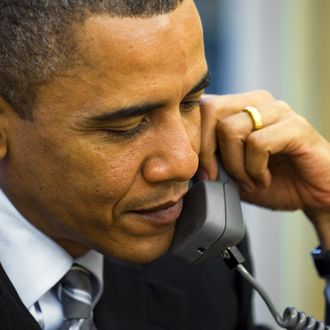 Photo: JIM WATSON/2010 AFP
This morning's jobs report shows the economy added a scant 80,000 new jobs in June, leaving unemployment rate at 8.2 percent. It's about what economists predicted, and though it's better than last month's weak showing, it's still not great news for Obama. In the post–World War II era, no sitting president has ever been reelected with an unemployment rate higher than 7.4 percent. The real picture may be even worse: As The Wall Street Journal explains, people dropped out of the labor force in huge numbers during 2011, meaning 88 million jobless people, many of them discouraged workers, aren't counted in that unemployment official percentage. It's also, as economist Betsy Stevenson notes, about the same rate as a year ago, though workers are earning slightly more this time around. But it still signals a slow-as-molasses recovery. "Interested in today's payrolls data: see commentary from last July. Nothing's changed — run your old story and go to the beach," she tweeted.
As Politico points out, the timing couldn't be better for Mitt Romney. A tepid jobs report and the news coverage that follows will be welcome after the last couple of major news cycles have been mostly triumphant ones for the president, in the wake of the Supreme Court's health-care decision. "Once every month the public sees it as a signal of either the competence of the president or his failures," University of Pennsylvania professor Kathleen Hall Jamieson told Bloomberg. "Jobs reports have taken on a talismanic political significance in recent months … the unemployment rate[is] among the few things that voters can see over time as a continuing indicator that they understand."As Matt Yglesias points out at Slate, it's the third straight month with weak numbers — for an average of 75,000 new jobs a month in the second quarter, compared with 226,000 on average the previous quarter — and three of anything makes a trend. Not a good one for Obama. With only a few unemployment reports left before the election, Obama doesn't have much more time to make the economic case for preserving the job that matters most — his own.