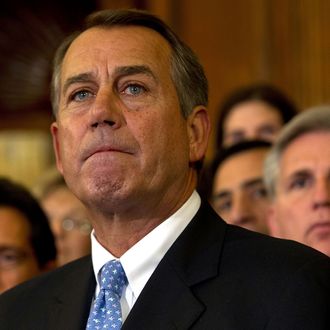 John Boehner.
Photo: Alex Wong/2011 Getty Images
Yesterday, Roll Call released a much-discussed report in which Speaker of the House John Boehner told an audience of Republican donors that "Americans probably aren't going to fall in love with Mitt Romney." Today, totally coincidentally, The Hill has published a story chronicling the pair's  "bond" — one that has "become stronger in recent weeks, according to GOP insiders." Making no mention of the "love" remarks, the piece focuses on their apparently secret friendship. 
Since officially backing Romney in April — after it was clear that Romney would be the GOP nominee — Boehner has held one meeting and attended only one public rally with Romney.

GOP operatives say that the lack of joint events should not be misinterpreted as a sign of disconnect. In fact, the relationship between Boehner and Romney has evolved into one of deep respect and behind-the-scenes communication.

"From Boehner's perspective — there's a lot of comfort there, and he feels good about [Romney] and a lot of collegiality and has become pretty close to the operation of the governor," a source close to the Speaker said.
Sure, the paper admits, the two are different. As we all know, Boehner "wears his emotions on his sleeve while Romney rarely does" but, as one anonymous source put it, "their styles and personalities are a lot alike." In fact, "The only place they probably disagree is smoking, but other than that I think they view the world in very similar ways." 
Damaged: controlled? Not really, but you can't blame them for trying. Meanwhile, former Mississippi Governor Haley Barbour got out in front of the issue today, telling Face the Nation,"There's a lot to love about Mitt Romney … I think a lot of people who know Mitt Romney really really like him, fond of him, think he's an enormously generous guy." After all, he added, Romney, "Quit a multimillion a year job to go run the Olympics." If that's not lovable, we don't know what is.