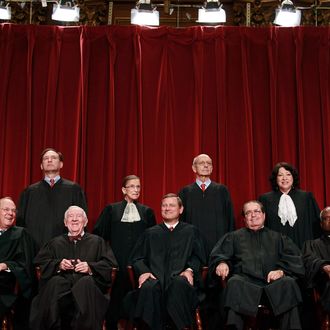 Nope, no sign of any awkwardness here.
Photo: Mark Wilson/2009 Getty Images
In the weeks leading up to last week's historic decision on the Affordable Care Act, it was repeatedly noted that the Supreme Court is extremely secretive. Sure enough, no one predicted that Chief Justice John Roberts would side with the four more liberal justices and declare that the individual mandate is constitutional as a tax, but not under Congress's Commerce Clause powers. However, thanks to some impressive reporting by CBS News, we now know that, as suspected, Roberts changed his position. As a result, the dissenting justices launched a monthlong campaign to bring him back to their side, which ended in them shunning Roberts when he refused to switch his decision. There's a good chance they even picked up their lunch trays and walked to a different table just as Roberts was sitting down.
According to sources in the court, following oral arguments in March, Roberts sided with the conservative justices who decided that Congress's ability to regulate commerce doesn't give it the power to require people to buy health insurance. Roberts seemed less certain than the others that this meant the entire law should be struck down.

The Chief Justice decided to write the majority decision himself, and at some point in May, the conservative justices realized he was beginning to change his opinion. Incredibly, it was Justice Anthony Kennedy — widely considered the most likely swing voter — who spearheaded the effort to bring Roberts back into the fold, with one source remarking, "He was relentless."

When the conservatives realized Roberts wasn't going to budge, the justices resorted to Mean Girls–style antics, or rather the SCOTUS equivalent, which involved ignoring Roberts in their dissent rather than conspiring to make him get fat. Roberts lifted some phrases in his opinion from Kennedy's oral arguments as part of an attempt to make him join the majority, but his counter-offensive was obviously unsuccessful. Justices Kennedy and Scalia drafted a highly unusual opinion, in which they intentionally failed to acknowledge Roberts's majority decision (as New York's Jonathan Chait noted, they refer to the majority as "the dissent") and refused to side with him even on the points they agreed on, such as his rejection of the Commerce Clause argument.
The new details make the court's reasons for operating under a veil of secrecy even clearer. Knowing the pressure Roberts was under from the rest of the court makes his decision all the more impressive. Yet, it's a bit disheartening to hear about the pettiness involved in crafting the dissent, especially after a decision that offered a reassuring sign that the court can rise above partisan politics. Now it seems that Roberts didn't seclude himself on "impregnable island fortress" just to avoid the media attention — he also needed a break from his fellow justices.