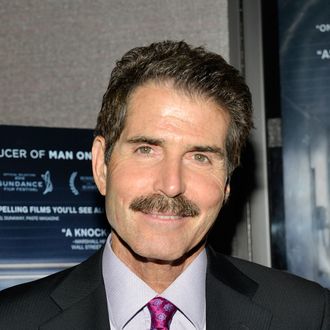 The one and only John Stossel.
Photo: Ben Gabbe/Getty
If you're under the impression that you once went on a magical date with famed mustachioed libertarian newsman John Stossell, you might have been duped. At the Le Cirque afterparty for last night's premiere of The Imposter, the Fox Business Channel reporter revealed that he once had an imposter of his own. "There was a guy cruising bars pretending to be me and picking up women about ten to fifteen years ago," Stossel told us. "When I heard about it once, I dismissed it. When I heard about more times, I became a little alarmed."
How far did this ruse go? Enough that at least three women who "eventually figured it out" contacted Stossel to let him know that he had a doppelgänger. (For the record, it was not Geraldo Rivera.)
"You should know there's this guy pretending to be you," they told him. Stossel thinks the women went on multiple dates with his double, "and they may have slept with him … because they really felt betrayed," Stossel said. "But he hadn't done anything horrible to them other than maybe sleep with them and mislead them," which, actually, does seem pretty horrible.
Still, "it freaked me out," Stossel said. So he got the man's number, got his mother on the phone, and let her know in no uncertain terms that he was onto her son. "I'm not sure if I made the call myself," the newsman said. "I might have had someone from [his former network] ABC or my assistant call, because I wanted to keep it at arm's length. But it only stopped after we talked to his mother."
Imagine finding out that your son was impersonating John Stossel to sleep with women. You would really have to reexamine your parenting skills after a phone call like that.