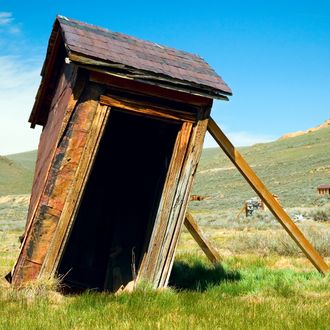 This is not PFGBest's auditor's house. But it inspires exactly the same amount of confidence.
More bizarre details have emerged on the already-weird story of PFGBest, the Iowa-based MF Global doppelgänger whose CEO is alleged to have orchestrated a years-long fraud that left customers missing more than $200 million.
As investigators figure out what happened at the bankrupt brokerage, a pair of Reuters reports today make a fairly convincing case that its CEO, Russell Wasendorf Sr., was a fraudulent oddball who threw off obvious warning sign after warning sign that something was amiss.
Regulators, for example, might have taken note of the fact that PFGBest's auditor, the firm responsible for making sure all of its books were properly kept, was a one-woman company run out of a suburban Chicago home.
Jeannie Veraja-Snelling, who runs the creatively named Veraja-Snelling Company out of her modest house in Glendale Heights, Illinois, certified that everything was A-OK at PFGBest, saying in a 2010 report that the "corporation's practices and procedures were adequate" even while Wasendorf was allegedly misusing millions of dollars in customer funds.
Veraja-Snelling "came to the door wearing a green sleeveless shirt and blue denim shorts" when Reuters came knocking, and refused to explain how PFGBest got a clean bill of health despite presenting some fairly severe accounting challenges. (Namely, not having the money it claimed to have.)

Wasendorf, who is reportedly in a coma following a suicide attempt, will have to answer some serious questions if he recovers. Reuters reports that the CEO fooled his industry's overseers — who periodically like to check on firms they regulate by taking a quick look-see at their bank holdings — by setting up a fake P.O. box:
Another source told Reuters on Tuesday that Wasendorf went to great lengths to fabricate PFGBest's financials, saying he intercepted confidential regulatory documents that were mailed by the National Futures Association to what the industry self-regulatory group believed was U.S. Bank, the bank used by PFGBest.

Instead, the NFA was sending the documents, used to independently verify a broker's bank balances, to a post office box that Wasendorf had set up, the source said.
But Wasendorf's (alleged) lies didn't end at the post office. They extended to his love life. Two weeks ago, after scheduling a local wedding in Iowa, booking the caterer, and sending out the invitations, he up and eloped:
Wasendorf, who had initially invited guests to a local wedding planned for next month, had actually married his fiancée Nancy Paladino in Las Vegas on June 30, according to a county filing.
Poor Nancy. I'm not sure what's worse: having your wedding officiated by an Elvis impersonator, or finding out that your new husband is a Madoff impersonator.