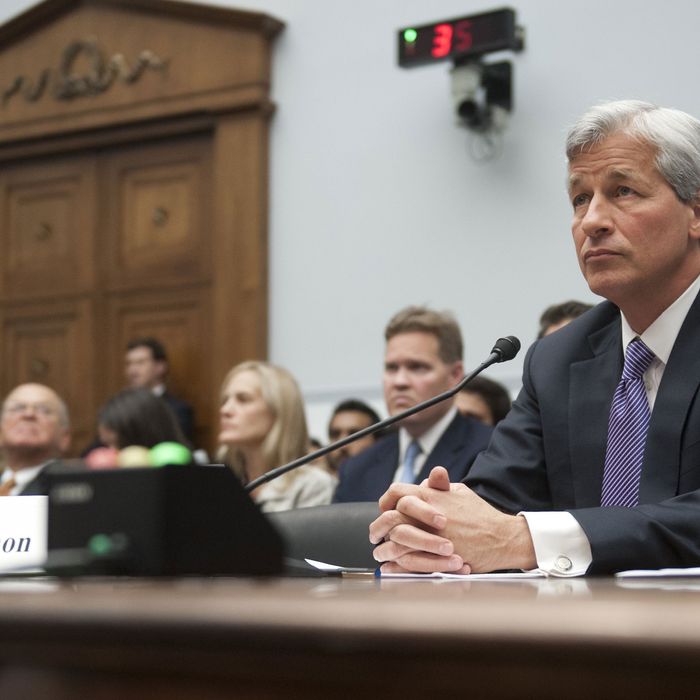 Lost a step? Please.
Photo: Saul Loeb/AFP/Getty Images
JPMorgan Chase is in full crow-eating mode this morning. The bank, which reported a second-quarter profit of $5 billion despite a $4.8 billion loss related to the London Whale's botched trades, is holding a two-hour conference call to explain how the Whale fiasco happened, and how the loss grew from a previously reported $2 billion to a total, year-to-date loss of roughly $6 billion.
The clawbacks that were rumored earlier this week also came to fruition, with the bank announcing it is taking out the claw for two years' worth of pay from Ina Drew, the former chief investment officer, and two other former CIO members.
But the bigger deal in JPMorganland today is that the bank announced it is restating its first-quarter earnings, reducing the amount it previously claimed to have earned by $459 million. Why? Because it "recently discovered information that raises questions about the integrity of the trader marks and suggests that certain individuals may have been seeking to avoid showing the full amount of the losses in the portfolio during the first quarter."
Translation: Our guys might have lied.
Restating earnings is a big, big deal on Wall Street. It's one of the most troubling things a bank can do, since it implies flawed oversight of the sacred quarterly ritual of spelling out, in clear and honest terms, what is on the books.
"We are not proud of this moment," Dimon said on the call.
The going assumption, throughout the whole London Whale episode, has been that what went on in JPMorgan's CIO was dumb, but honestly dumb. Dimon told Congress last month that he believed the Whale's trades were  ill-conceived, poorly managed and ultimately painful for the bank, but never suggested that anyone hid the losses deliberately. But if Iksil or other CIO traders were deliberately mis-marking their trades, as the bank is suggesting they could have, it would be worse than incompetent. It might be criminal.
Dimon acknowledged his embarrassment over what he called "the accident," saying it shook JPMorgan "to the core."
Of course, a Jamie Dimon apology wouldn't be a Jamie Dimon apology without some swagger. When the call moved to Q&A, Mike Mayo, a prominent analyst who has been on Dimon's bad side for years, asked the CEO if he was feeling personally insecure as a result of the London Whale episode.
"Have you lost a step?" Mayo asked.
Dimon just laughed.