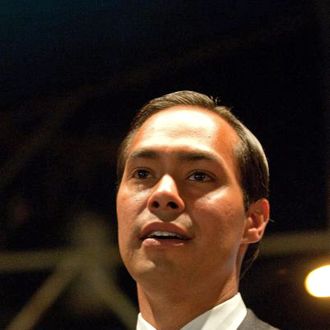 Julian Castro.
Photo: Mayor Juli?n Castro/Facebook
"Julián Castro has a very good chance of becoming the first Hispanic president of the United States," GOP strategist Mark McKinnon said of the mayor of San Antonio in 2010. And that was before the 37-year-old Castro was chosen to deliver the keynote address at this September's Democratic National Convention in Charlotte, a spot generally reserved for rising stars within the party. You may recall that a weirdly named soon-to-be-senator who almost nobody had ever heard of before was given the coveted slot in 2004. He's the president now. (Okay we'll just say it: It was Barack Obama.)
Of course, delivering the keynote speech at your party's convention hardly guarantees a trip to the White House — recent DNC speakers also include Harold Ford and Evan Bayh. But Castro, a graduate of Stanford and Harvard Law, is clearly being groomed for something larger. He was one of only five mayors to attend an Obama forum on jobs at the White House in 2010, and at 35, the youngest. (Obama joked at the meeting that he thought Castro was an intern; Castro reportedly "smiled politely.") He sat in the First Lady's box at the State of the Union earlier this year. And now he's been handed a golden opportunity to make a splash on the national stage.
Obviously, Castro's Mexican ethnicity has enormous appeal for the Democrats, now and in the future. Now, because giving him such a prominent role at the convention could help to energize Hispanic support for President Obama. And in the future, because the Hispanic vote is only going to grow in the years to come, and running a Hispanic presidential candidate wouldn't be a terrible idea, politically. When asked by the Times's Zev Chafets in 2010 whether, as a newly elected mayor, he had his eye on the presidency, Castro responded, "It is way too early to be thinking about that." Which is not "no."