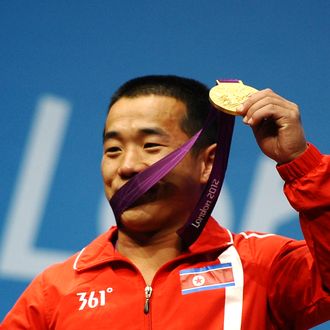 Om Yun Chol shows off the medal Kim Jong-il won him from hell.
Photo: Laurence Griffiths/Getty Images
Kim Jong-il shot eleven holes-in-one the first time he played golf and once coached the North Korean men's World Cup soccer team via an invisible phone, so his athletic prowess has been well documented. But he pulled off an even more impressive feat in the London Olympics yesterday: winning a gold medal in weightlifting despite being dead for the past seven months. 
North Korea's Om Yun Chol joined an exclusive group of weightlifters Sunday who have lifted three times their body weight in the clean and jerk — and in the process won the gold in the first upset of the weightlifting competition at the London Olympics …

"How can any man possibly lift 168kg? I believe the great Kim Jong Il looked over me," Om was quoted as saying by the Olympic News Service …

"I am very happy and give thanks to our Great Leader for giving me the strength to lift this weight," Om said. "I believe Kim Jong Il gave me the record and all my achievements. It is all because of him."
Um, and what about Kim Jong-un? Surely he was providing real-time weightlifting tips via ESP or something? Poor guy doesn't get any credit for his accomplishments.