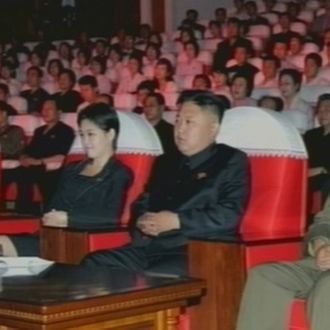 Kim Jong-un and his maybe-wife take in a show.
Photo: Courtesy of Korea Joon Gang Daily
"South Korean intelligence officials," the Korea Joongang Daily reports, now believe that Kim Jong-un's mystery lady is music star Hyon Song-wol, who used to be the lead singer of the Bochonbo Electronic Music Band (or, as we've seen it referred to in most other places, the Pochonbo Electronic Ensemble). Never heard of her? What if we told you she was behind the 2005 smash hit "Excellent Horse-Like Lady"? Yep, that was her. Man, what a classic. 
Kim and Hyon have something of a history together, it seems. They first became romantically involved about a decade ago, but Kim Jong-il discouraged the relationship, and Hyon went on to marry and have a child with a North Korean Army officer. But according to a North Korean expert, Kim the Younger, upon ascending to position of Top Dictator in December, decided to get Hyon back:
Toshimitsu Shigemura, a professor at Tokyo's Waseda University and author of a number of books on the North Korean leadership, said he believes the woman to be Mr Kim's wife and that she is waiting to be officially introduced to the North Korean people.

"It is highly possible that this is his wife and that Kim is trying to show a new style of leadership, of a husband and wife, in North Korea," Professor Shigemura said.
So … what about that North Korean Army officer Hyon married? Probably dead by now, we're guessing!