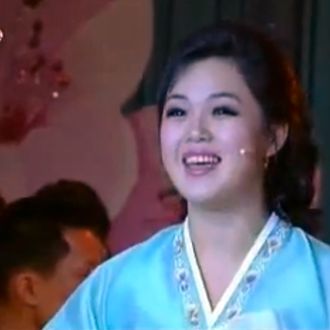 First, the mystery woman spotted with Kim Jong Un, the plumpest and therefore most eligible bachelor in all of North Korea, was thought to be his long-lost sister. Then it was determined to be Hyong Son-Wol, the lead singer of the Ponchobo Electric Band and the woman behind the smash hit single "Excellent Horse-Like Lady." But now Steve Herman of Voice of America is reporting on Twitter that Kim Jong Un is married to someone named Ri Sol Ju, and he has an actual credible source: official North Korean state media.
Coincidentally (we think — we are very confused right now), Ri Sol Ju also happens to be a prominent singer, probably? Here is a video of her performing with the Unhasu National Orchestra:
Anyway, congratulations to the happy couple — KimRi, as the North Korea tabloids will now probably refer to them.