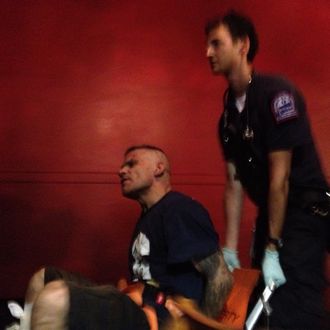 Minutes before punk metal band Cro-Mags was set to go onstage at last night's CBGB Festival show at Webster Hall, all hell broke loose up in the VIP dressing room. "Get his hands, he's got a knife," an attendee from the Bowery Boogie blog overheard someone say, as security guards converged on what turned out to be Cro-Mags founder and former bassist Harley Flanagan brandishing a hunting knife. By the time Flanagan was subdued, he'd stabbed bassist Mike "The Gook" Couls in the arm and stomach, slashed band member William Berario above the eye and bit his cheek, and had his own leg broken, reports the New York Post. "Blood was everywhere, and bone protruded from his shin," the same Bowery Boogie witness wrote. The Cro-Mags set was naturally canceled.
In a statement, the CBGB Festival lamented the incident, adding that:
Live music can be incredibly uplifting, empowering and positive. We don't feel the actions of one person should overshadow four amazing days and nights of events that include today's historic and unprecedented free concerts in Times Square and Central Park.
Hopefully, some of last night's dejected concertgoers — many of whom pelted Flanagan with whatever was at hand — can get their full-on music today, when Superchunk and Clap Your Hands Say Yeah (and others) serenade Times Square crowds from noon to six. As for Flanagan, even with his hands cuffed behind his back, he still managed to give everyone the finger as he was wheeled out by police last night.