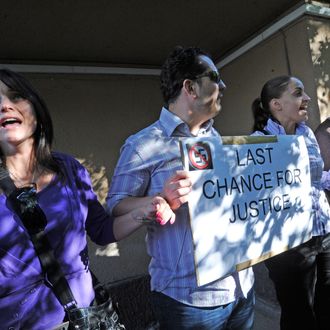 A protest outside of Csatary's home.
Photo: Atilla Kisbenedek/AFP/Getty Images
Actually, the arrest of 97-year-old Laszlo Csatary in Budapest by Hungarian police today shouldn't have come as a total surprise; we just wanted to use the headline. The Nazi-hunting Simon Wiesenthal Center released a report earlier this year on Csatary, the reportedly sadistic police commander in the Hungarian-occupied Slovakian city of Kassa, labeling him their most wanted Nazi for his role in the deportations of over 15,000 Jews to Auschwitz in 1944.
Then just a few days ago, Csatary opened his front door to find reporters from Britain's Sun newspaper, asking him all kinds of nosy reporter questions — you know, why did you kill all those Jews, etc. The subsequent story led to a student protest outside of Csatary's home and pressure on the Hungarian government to act.
"When you look at a person like this, you shouldn't see an old frail person," the director of the Simon Wiesenthal Center's Jerusalem office suggests to the AP, "but think of a man who at the height of his physical powers devoted all his energy to murdering or persecuting and murdering innocent men, women and children."