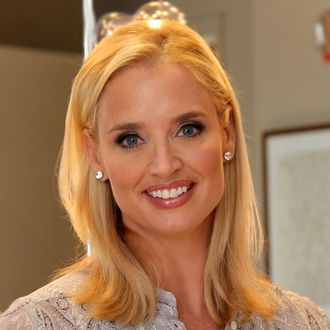 When Iraq's Electricity Ministry needed a friendly, sunny face to soothe the nerves of Baghdadis incensed over the constant absence of reliable power, they turned, of course, to Katie Couric. On dozens of billboards across the city, the Times reports today, Couric's smiling, completely unauthorized visage conveys to residents that the Electricity Ministry cares about them and their struggle to stay cool during these scorching summer months.  And while Couric serves the purpose well, she wasn't the only American TV personality that the Electricity Ministry considered. The "backup choice," which you have probably already ascertained from the headline of this post, was Laurie Dhue, a former anchor for all three cable news networks. 
While we personally would have been crushed to learn that we'd been thisclose to serving as the public face of Baghdad's colossal electricity failures, Dhue is taking it in stride. "I have seen Katie's dazzling smile in person many times and think it makes perfect sense for her to have been chosen to grace the Baghdad billboards," a humble Dhue, who now does media and communications consulting, told us over e-mail.  "I am flattered to have been considered and will happily serve as the back-up for Iraq's Electricity Ministry any day!"
However, should Couric's angelic face fail to sufficiently placate the masses, Dhue is ready to step in. "For the record," she added, "I give Iraqi officials full permission to pluck pictures of me from the Internet for any upcoming electricity campaign billboards — as long as I look good in them, of course!" So, any photo.