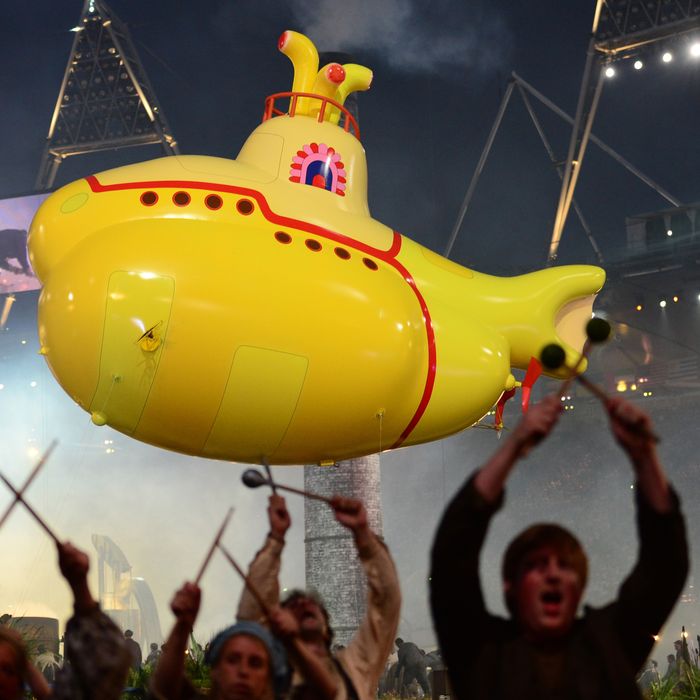 An inflatable yellow submarine floats above artists performing during the opening ceremony of the London 2012 Olympic Games on July 27, 2012 at the Olympic stadium in London.
Photo: Olivier Morin/AFP/Getty Images
Olympic opening ceremonies don't actually have a lot to do with sports. Sure, London's opening ceremony had nods to athletics — Tour de France champ Bradley Wiggins rang a giant bell at the beginning of the ceremony — but it's really more of a mash-up pageant, attempting to tell entire story of British life and culture through director Danny Boyle's pop-culture-saturated brain.
The show began with a pastoral British countryside, and was then transformed into a coal-dust-laden Industrial Revolution landscape of chimneys and steam engines, all overseen by a mutton-chopped Kenneth Branagh. Then it really got weird: the Sergeant Pepper–era Beatles marched by, Mary Poppins and Voldemort made an appearance, and before long every British cultural touchstone from David Beckham to Mr. Bean made a cameo. Daniel Craig as James Bond escorted the Queen to a helicopter, where she (not really) parachuted into the arena. David Beckham steered a speedboat down the Thames. "Bohemian Rhapsody" played, though we found it funny that a clip from Wayne's World accompanied it. ("You're welcome for making that song popular again," said North America.) There was a Stones song, and a Beatles song, and a song from the Prodigy, and a musical ode to the National Health Service. Hail Britannia!
When the fever lifted, the ceremony returned to normality with the march of Olympic athletes into the stadium. Later on, there would be fire. Check out the photos to get a taste of the madness.