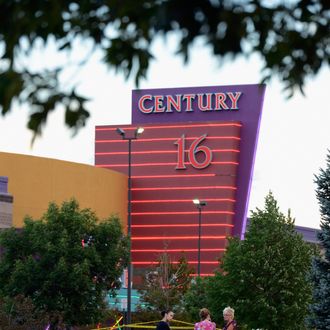 Site of the Aurora, Colorado shooting.
Photo: Kevork Djansezian/2012 Getty Images
Just hours after Maine police revealed that they've arrested a potential Aurora shooting copycat, authorities in Norwalk, California, announced that they've booked a man for threatening to shoot before a screening of The Dark Knight Rises on Sunday, according to KABC-TV. Police say that Clark Tabor was upset that the movie hadn't started, so he waved his cell phone in the air and shouted, "Does anyone have a gun?" and "I should go off like Colorado."
A security officer says he found him crouching over his backpack in the second row of seats. No weapons were found in the theater or at Tabor's home, so it seems he didn't intend to hurt anyone. Tabor has been charged with making criminal threats and is being held on $50,000. So far it's unclear if he's unhinged, or was simply making the world's least-funny joke. We doubt it makes a difference to theatergoers, who were afraid that Tabor was about to open fire.